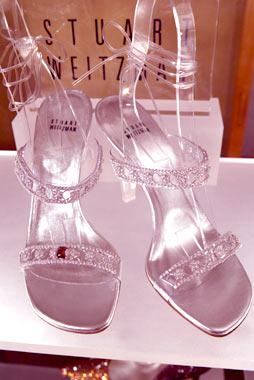 THE CINDERELLA SLIPPERS: How much could a pair of shoes cost? Well, the world's most expensive pair of women's shoes costs a cool $2 million!
The one-of-a-kind 4½-inch stiletto sandals are studded with 565 platinum-set Kwiat diamonds (which include 55 carats of clear diamonds and one big 5-carat stone).
The 'Cinderella slippers,' as Stuart Weitzman, the designer of the fantasy sandals, calls them, were worn by singer Alison Krauss (nominated for best song for the film Cold Mountain) at the 2004 Oscars ceremony.
The Stuart Weitzman-designed $2-million shoes on display in Beverly Hills, California.
Photo by Frazer Harrison/Getty Images