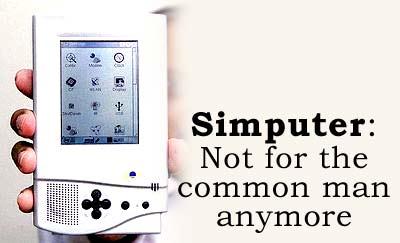 Only three years ago, the Simputer was the biggest story to come out of the Indian IT industry.
It was to be the first time that a computing product would be completely indigenously developed and marketed. What made the whole idea sweeter was that it would be a product that would take computing to the very interiors of India.
It would be a 'personal computer' costing less than half the price of the conventional desktop available in the market.
The promises were many.
But how far has the Simputer come since then? Is one currently available in the market and how much does it cost?
To answer these questions rediff.com does a reality check on the Simputer.
| | |
| --- | --- |
| | Also Read |
| | |
The Simputer traces its origin to the first Bangalore IT.com conference in 1998. At the conference, a group of IT industry professionals and professors discussed the idea of a computer that has relevance and is affordable to the common man.
It should have applications that would benefit users in smaller town and even villages. It should bring information to them in their own language and with an interface that would make it easy to use.
"We wrote a concept paper on this and circulated it during Bangalore IT.com. We identified areas where we can contribute and zeroed in on the idea of building a universal access device," says Professor Swami Manohar, CEO, PicoPeta Simputers, and one of the trustees of the Simputer project.
The Simputer Trust was then created to see how best the idea could become "a platform for social change."
There were seven trustees: Vijay Chandru (Indian Institute of Science), Vinay Deshpande (Managing Trustee, Encore), Shashank Garg (Encore), Ramesh Hariharan (IISc), Professor Manohar (IISc), Mark Mathias (Encore), and V Vinay (IISc).
Their goal was to create a device that would bring computing to people in ways that would benefit them.
Nearly five years after a resolution on the Simputer was passed, the product is yet to be freely available.
Two companies, PicoPeta Simputers and Encore Technologies, have been given the licenses to produce the Simputer. They compete with each other and have products that look different.
While PicoPeta is looking at retail sales, Encore has limited itself to bulk sales only.
PicoPeta Simputers, which was started in 2001, is yet to put out its product in the market. They say they are on the verge of doing so.
"In the first stage we moved from declaration to development. Now we are ready to move from development to commercialisation," declares Prof Manohar.
Encore Technologies, the other manufacturer of the Simputer, formally launched its product in Singapore in October 2002. But from June 2002, it had been putting out small batches of the Simputer in the market.
However, there are only 1,500 to 2,000 Encore Simputer machines out in the market yet.
Well, it's not a cheap computer.
Its proponents have since discarded the buzzword -- 'cheap computer' -- that brought the Simputer into the limelight.
"We are not making a cheap computer. We are making a sophisticated device that will make computing possible for everyone," declares Professor Manohar.
And that computing for everyone is likely to carry a price tag of anything between Rs 12,000 and Rs 20,000.
Encore's entry-level model will cost Rs 12,000, while the most expensive one will be priced Rs 22,000.
PicoPeta is likely to price its Simputer, Amida, at about Rs 15,000.
Which begs the question, why would anyone opt for a Simputer and not go for a desktop PC or a handheld device?
For its portability and the range of features it offers, argue PicoPeta and Encore.
"Our Simputer comes with a smart card reader. It has a USB master that can host different kind of peripherals. It has an in-built modem, GSM/CDMA data interface, GPS receiver and the equivalent of a 400 MHZ Celeron. It is a power packed machine," says Samyeer Metrani, group manager (embedded systems), Encore Technologies.
Says PicoPeta's Professor Manohar: "The Rs 20,000 that a desktop costs is only a part of the total ownership costs. How many people can use the standard PC? You need to know Windows, English, how to operate a mouse, et cetera. The Simputer will give them applications that they can handle easily."
But clearly, somewhere along the line from conception to development, talk of the Rs 9,000 Simputer that would become the computer for the poor man, has been lost.
"The Rs 10,000 estimate for a Simputer was based on 100,000 pieces being ordered. When we told people that they just wrote about the first part and forgot to mention the conditional second part," says Professor Manohar.
Yet he feels the Simputer will find enough takers. "There are 7 million (70 lakh) PCs in the country today. There are over 1 billion (100 crore) people in this country. Where are the rest going to get PCs from?" he asks.
Delays and redesigns
In October 2002, PicoPeta entered into an agreement with Bharat Electronics Ltd that would have BEL manufacture and distribute the Simputer, while PicoPeta would do the technology development and design.
The Simputer would then be a co-branded product and it would tentatively be called, Amida. PicoPeta is looking at both retail and bulk sales.
Though there are no Simputers available yet, PicoPeta says that production will be in full swing by the end of the month, after which distribution details would be discussed.
"We are going towards a launch very shortly -- in the next few weeks actually," says Professor Manohar.
As for Encore Technologies, it still has to show a reasonably significant number of pieces in the market.
Part of the delay is because of the re-engineering that both PicoPeta and Encore have had to do due to the redesign their products have had to undergo.
These include subtle-but-clearly-essential changes to more complex revamps.
For instance, PicoPeta's Simputer earlier was designed to run on AAA batteries, of both the regular and the rechargeable kind. The idea was to make batteries easy to get and cost-effective.
But the company soon found that commercially available AAA batteries ran out very quickly, people were interchanging polarities while inserting batteries and battery contacts were coming loose due to rough handling.
The result was that PicoPeta had to redesign part of the Simputer to accommodate fixed lithium-iron batteries.
"In the newer models power had to last for two days so we put in these batteries. We have also added a built-in charger and improved the entire power management system," says Professor Manohar.
There were other problems too that plagued the PicoPeta Simputer. No backlight meant that reading the screen became difficult. Customers soon wanted color screens too, rather than the monochrome ones that PicoPeta had planned on a large scale initially.
In case of Encore, the finish needed to be improved and the overall look spruced up.
Recently, Encore hired a French designer based in Singapore to redo the product look.
"Based on feedback from users we have decided to reconfigure and make some changes to the plastic design. We have also cost optimised the product and have brought in a still lower priced model but with some features shaven off," says Mark Mathias, vice president (hardware development), Encore Technologies.
The new design will go into production only next month.
Encore has also effected some key engineering changes like replacement of the chipset modem with soft modem and bringing flash interface into the main box.
Critics of the Simputer suggest that the project has whittled away the profuse good publicity it had received.
"They had over three years of some of the best publicity that any product in the world could get. But at the end of it there is little to show," says a senior manager in one of Bangalore's software companies who has been keenly following the project.
However, Simputer trustees say they are not to be blamed. The hype surrounding the project had caught them unawares.
"We just spoke to a few journalists. But the idea of a low-cost device being done in India for its people caught public fancy. We didn't anticipate the kind of effect our announcement would create," says Professor Manohar.
In case of PicoPeta, finding funding itself was a problem. Despite the good publicity that Simputer garnered, few venture capitalists dared to fund the start-up.
After nearly running out of the money given to it by its angel investors -- largely Non-Resident Indians from Singapore who were interested in the project -- PicoPeta was forced to turn to the government for help.
Finally, in January 2003, PicoPeta got support from the Technology Development Board of the Department of Science and Technology at the Government of India.
"It's a self-motivated effort using the resources we could put into the project. We have driven in that mode for two years. It is only by 2000 that actual building of hardware and systems software picked up," says Professor Manohar.
No big orders to bank on
It has been a similar story while angling for large orders. When a push comes to a shove, few companies -- or even the government – are willing to give the Simputer a chance.
"We have been taking it to government agencies and multilateral organisations to convince them to try out the Simputer. But we have not been successful in galvanising support. It is the first time such a product is being developed in India so everyone has a wait and watch attitude," says Professor Manohar.
PicoPeta's Simputer has been used in a project that involved education of tribals in Chhattisgarh. At the IISC, where over 100 Simputers were given for trial, it did activities as diverse as creating a database on birds to monitoring wireless radio equipment on ships.
Currently, the Simputer powers two projects. The Gulbarga Electricity and Supply Company's spot electricity billing system, and Bhoomi, the land records computerisation effort.
PicoPeta has installed 20 Simputers on to the GESCOM project, while for Bhoomi, it has deployed 200 machines on the field.
On the GESCOM project, the 20 Simputers print nearly 30,000 bills every month. In Bhoomi, 200 village accountants use the machine in five districts of Karnataka to gather information on land records.
"We are fairly clear that commercial success has to go with our development goals," says Professor Manohar.
In case of Encore, the Simputer is being used by the Dempo Mining Corporation at their weighbridges. Other applications include in areas of healthcare (patient records), e-governance (identity cards) and utilities billing.
Encore is focusing only on bulk sales and is not targeting individual buyers for its product.
"Our Simputer is not really of use to the individual buyer who would want features like calendar, appointments, diary et cetera. We don't offer those and we tell buyers upfront that they might be better off buying a handheld device," says Metrani.
However, Encore is exploring the possibility of licensing manufacture of the Simputer to some companies that have expressed interest. These firms, in turn, will customise and distribute the Simputer to retail users.
"This is likely to happen over the next six months. They have to take it to the common man. We don't have the bandwidth to do this," says Mathias.
Ultimately, the key players say that it is only a case of balancing expectations against reality.
"People were hoping for some magic, but magic doesn't happen," says Professor Manohar. "There is a lot of hope riding on the Simputer. But commercial reality is not like a Hollywood movie where you make a good product, make your first big sale and you are on your way to success. This is real life."