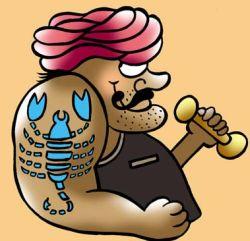 Are you for or against the moustache? We want to know!
Illustration: Uttam Ghosh
Moochh nahin toh kuchh nahin!
Indians certainly take pride in a man's facial fuzz, don't we?
Moustache-twirling men have served us as an epitome of masculinity all through history.
In a survey conducted by AskMen.com, India was the winner of the moustache-dense countries competition.
Yup, it seems a moochh rates highest with us.
But did anyone ask our ladies about that?
While every elder male in an Indian household seems to sport a handlebar, pencil or hourseshoe, it's not often that you see younger Indians sporting a moochhi.
So is the moochh losing its fuzzy edge with the Get Ahead generation? Or is it still as popular as it ever was?
So all you men out there, tell us what you think of sporting a moustache or not, and why. And ladies, do tell us whether you prefer men with them or without.
Please post your opinions on the message board below.