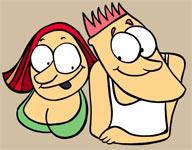 Sometimes you want to go
Where everybody knows your name,
And they're always glad you came.
So goes the ditty of a popular '80s sitcom. And of course, it's all about having friends.
With Friendship Day coming up on August 2, we want all of you out there to dedicate messages to your favourite people in the whole world right here, on rediff.com
The friends you grew up with, the friends you pushed around on the playground, the friends who passed you notes in the classroom, the friends who were there to hug you when your dog died.
Show your love for all of them by simply writing a loving note on the messageboard below. Let them know how much you care and how much you're thinking of them on this very special day.
The simplest gestures go the longest way, so make your friendship effort today!
Illustration: Uttam Ghosh