Full-cream milk, deep-fried foods, calorie-rich salad dressing... these are 'fat' hazards that increase the calorie count in your food.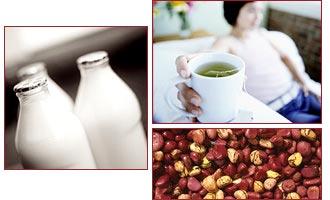 The best way to cut these down is to adopt healthier cooking methods.  
Here are some sensible cooking tips to help you eat healthier.
Dairy products

~ Skim milk and its products are a must. For instance, have skim milk paneer or tofu (made of soyabean) instead of processed cheese and cheese spreads (which have a high fat content). 
Have shrikhand (no puris please) or fruit yoghurt instead of fat rich ice creams.
~ If skim milk is too expensive, prepare it at home. 
Boil milk the previous night. Cool and refrigerate. Next morning, remove the cream (malai) layer that has formed on the top. Heat the milk again and use as desired.  
~ A low calorie, high protein cheese spread can be prepared using skim milk curd.
Put the curd in a muslin cloth and hang it for a few hours to drain the excess whey (taak). Add salt, finely chopped green chillies and garlic to this thickened curd and mix well. If you wish, you may also add grated carrot. Refrigerate and use within a week. 
Oil 
~ Bake cutlets/ kebabs instead of frying them.
Once you shape the cutlets, coat them with oats, place them on a lightly greased baking tray and brush lightly with olive oil. Bake in a moderately hot oven until golden brown, turning the cutlets to the other side about half way through.
If you do not have an oven, do not despair.
~ Grill the cutlets on a non-stick frying pan. 
First, brush the cutlets with olive oil, then place on the heated frying pan. Lower the flame, cover and allow to fry slowly till golden brown. Shake the frying pan occasionally to prevent the cutlets from sticking to it. When one side is golden brown, turn cutlets over and fry the other side in the same manner. 
~ Here is what I do with paneer:
To fry paneer, heat a non-stick pan. Then lower the flame, place the paneer cubes on it and allow to fry over a slow fire till all the whey that comes from the paneer evaporates. Shake the pan occasionally to ensure the paneer cubes do not stick.
Add half a teaspoon of oil and fry till the cubes are golden brown on both sides. 

~ In order to use less oil in chapattis, knead the dough with skim milk instead of water. Do not add any oil while roasting.
~ Make it a habit to cook with less oil. Ideally, the oil consumption for a family of five members should not exceed 1-1 ¼ litre per month.
If you love fried food, fry with as little oil as possible. If you can afford it, use non-stick pans for cooking as it allows you to cook the same way but with much lesser quantities of oil. Needless to say, this cuts down on calories too.
~ Season (bagar) spices or onion with one teaspoon of oil, then keep adding a tablespoon of water at a time till the onions have cooked.
~ Slice onions finely. Bake in the oven till golden brown and use in biryani instead of the traditional fried onions. 

~ Roast papads instead of frying them. All fried snacks can be made healthier by baking them.
~ When shopping for snacks, pick up readymade baked versions of traditionally fried snacks like chivda, khakra, etc.
~ Use cooking methods such as steaming, baking, poaching, grilling (in the oven or in a frying pan by brushing with oil and cooking on a slow flame) or stewing instead of frying to cut down on the amount of oil you need.
Say goodbye to fat
~ Remove all visible fat from the meat and skin of the chicken before cooking. 

~ You can also scoop out congealed fat from meat or chicken stock, soups and stews by refrigerating them for a few hours before use.
~ Use palak puree, tomato puree, bottle gourd (dudhi) puree or onion puree instead of mava or other nuts needed to prepare dishes containing kadai or makhani gravies. All you have to do is to grind any of the above and fry it in just a teaspoon of oil before adding the masala powders and vegetable or chicken or paneer to obtain rich and thick gravy. Add one or two teaspoons of milk cream (malai) to add flavour.
~ Cut out on the mayonnaise in salad dressings by using low fat or skim milk curd along with herbs and seasonings instead.
~ Substitute cream in sauces and gravies by using the same amount of skim milk instead of cream. Thicken the mixture with cornflour to get a rich, creamy texture.
Quick tips 
~ Limit consumption high fat foods such as butter, cream, cream sauces, mayonnaise, milk cream, salad dressings containing oil and fried foods.  
~ When eating out or at parties choose grilled or baked items instead of fried ones for starters. Alternately, you could skip the starters and order a soup.

~ Choose dishes for the main course carefully. Have plain rice, chapattis, rotis or bread instead of parathas, nans, fried rice, biryani or baturas, if the side dishes are going to contain rich gravies.
Part II: Is your cooking oil safe?
Rohini Cardoso e Diniz is a consultant dietician with Naomi's Fitness Centre and manages a private practice in Goa.