Hollywood's doing it.
Madonna and Oprah swear by it.

Go on and add Pilates, the new rage exercise, to your fitness routine. Tone up your stomach and hips. Feel more poised and graceful.
Pilates includes more interesting exercises than the same old crunches. Soon, you will be 'rolling like a ball' and doing the 'can-can'.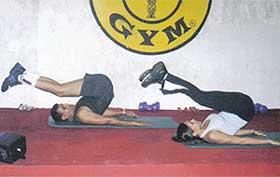 What is Pilates?
In simple terms, Pilates is a form of exercise that targets the core of the body, ie the abdomen, back and hips while using the entire body.
It also increases flexibility and improves posture.
The exercises are done lying down on the mat, and involve a series of controlled movements of the arm and leg that strengthens the abs, hips and back.

What sort of exercises does it involve?
Pilates can be done on special Pilates equipment like allegro beds, Pilates chair, etc, or on a mat.
Mat Pilates is more popular since the same results can be achieved by just working out on a mat instead of investing in equipment, which is quite expensive.
The exercises are slow and controlled, with a lot of body and mind concentration, thereby utilising the muscles to their maximum capacity.

How is it different from regular abdominal, back and hip exercises?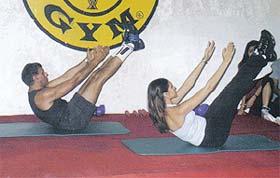 The Pilates method utilises the whole body instead of isolating a muscle and working it.
This increases the level of resistance, making Pilates more intense than regular exercises.

Pilates exercises help the body much more in daily activities, since Pilates is a form of functional training.
Pilates is used for restorative treatments for back injuries. It is also used as an injury preventive measure.
How does Pilates compare to doing abs, hip and back exercises in the gym?
Gym equipment is designed to support the entire body and then isolate and work just one muscle or muscle group.
Pilates uses the body as an integrated whole and then works the target muscle, resulting in a stronger body that's more fit to cope with daily activities.
The exercises help you have more control over your body.
It also helps in achieving leaner muscles and good posture. A session of Pilates leaves you feeling taller and lighter.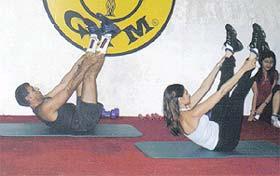 Who can benefit from a Pilates workout?
Anyone and everyone! Pilates strengthens the more important part of your body -- the core.

This is the area that helps you stand, move and balance properly.
It is also the area most prone to injury, mainly back problems.

Back problems can leave you unable to carry out even simple routine tasks, like sitting, standing for long, etc.
It is imperative for everyone to have a strong core; no other form of exercise focuses as much on this as Pilates.
Where can one access pilates sessions?
~ You can buy a book or get a video on Pilates and try it at home.
You get these at bookstores or online, under the title 'Pilates'.
~ We recommend you do at least a couple of sessions in a class before you try it on your own. This is so that your instructor can first do an assessment and recommend the right Pilates exercises for you.

Brinda Sapat is an aerobics instructor with Gold's Gym; it has more than 680 branches in 24 countries.
Gold's Gyms in India adhere to global standards with state of the art equipment, cutting edge technology and scientifically designed fitness programmes.
DON'T MISS!