arty networking is the smart way to achieve many of your goals.
It could land you a new job.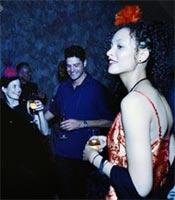 It could give entrepreneurs the business they are looking for.
It could open new vistas which you may not encounter in a formal environment.
So, are you ready to party?
BPO training and communication expert Nasha Fitter demystifies the subtle nuances of party etiquette by answering one of the most commonly asked questions today, "How do I conduct myself at a party?"
I am a Software Developer and work for a medium-size software company.
I want to improve my interaction abilities, communication skills, body language, facial expressions, etc.
I find it necessary especially when I go to parties or office seminars. I meet lots of people, so I want to make a very good impression and show confidence.
Please suggest some tips for the same.
- Vikas
What a lovely question! People often forget how important first impressions and interpersonal communication skills are. 
First, when you enter a room for a party or seminar, make sure your posture is straight. 
When you approach a group of people, don't be afraid to introduce yourself. 
Stick your hand out and initiate the process of shaking peoples' hands. This shows you are confident and friendly. 
Also, don't give your business card to just anyone like it is a flier. Do it only when you get into a conversation with someone. Then, hand over a card.
When you speak to someone, make sure you look them in the eye. Try to keep your eyes from wandering. 
Listen carefully. Ask lots of questions to show people you are interested in what they have to say. For example, if you were speaking with someone and they say, "I am a software developer," don't just answer with a short response and then move on to another topic.
Delve into what they have said by asking questions like, "How long have you been in the field?", "Is there a lot of competition in the industry?", "What kind of projects do you work on?", etc. 
You don't need to know a lot about a topic to build a conversation. You just need the desire to learn more about any given topic.
The bottom line: Great listeners make great conversationalists!
And, remember: it is a much better networking practice to speak to a handful of people indepth, than to speak to lots of people briefly.
DON'T MISS!