he key to a successful and happy relationship is the willingness of the couple to work hard at keeping their relationship healthy.
There is no 'perfect' marriage. But there are many couples who have managed to work through their differences and keep their marriages vibrant and alive.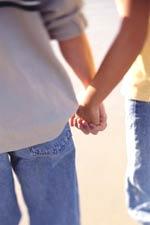 On their journey to ironing their differences, here are some classic complaints that couples have:
Part II: Do you face these issues in your marriage?
Part III: Marriages: Big problems, small solutions!
1. We have nothing in common! At times, we don't know what to say to each other!
This situation is common. More common than you think.
Each spouse has diametrically opposite personalities, likes and hobbies.
Sharing is, of course, easier when you have similar interests. But the lack of similar interests and hobbies or viewpoints does not mean your marriage is a lost cause!
Make an effort to take an interest in your spouse's likes.
Both of you should respect the other's way of dealing with situations. And, at the same time, learn to give each other time and space to do things by themselves.
A good thing to do would be to try to develop new hobbies that interest you both, so that there is some common ground to share.
2. We love each other very much, but my husband/ wife does not understand me at all!
Men and women have different ways of perceiving things and reacting to them.
We tend to expect our spouse to be our best friend.
But that may not always happen. For the simple reason that a best friend is -- usually -- of the same sex as we are and has similar ways of responding.
Realise that husbands and wives react to the same situation in different ways. And you may not find your spouse to be insensitive to your problems.
Try and figure out how your spouse perceives the same situation. Is it exactly the way you do or somewhat different? This will help you know where s/he is coming from in responding to you in a given situation.
3. We fight a lot about expenses. We just can't see eye to eye on this matter!
This is a delicate situation.
When partners don't agree on financial matters, it is very important to sit down and sort out the differences in a mature and calm manner.
Each partner has to agree for a bit of a compromise. Let go of your stand in some situations.
With maturity and compromise, you can reach an understanding or consensus regarding your finances.
Part II: Do you face these issues in your marriage?
Part III: Marriages: Big problems, small solutions!
Samindara Sawant is a clinical psychologist and founding member and partner of Disha Vocational Testing and Counselling Center, Mumbai. She does marital counselling on a regular basis
.