efore picking up your new mobile handset, stop a minute to think.
If a recent government survey in London is to be believed, over 60 per cent of the British public is of the view that having a mobile is more harmful than beneficial to one's health.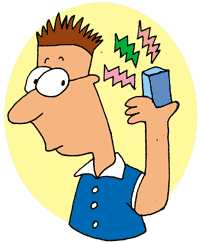 According to Science in Society, a Mori Research report commissioned by the British government's department of trade and industry, this alarming statistic pales in comparison to how mobiles were perceived two years ago.
The conclusions were reached after a survey of around 2,000 people.
Sir William Stewart, head of the National Radiological Protection Board, Britain's radiation watchdog, warned that the dangers of mobile phones -- particularly to children -- were still unknown.
A Swedish study has further linked long-term use with double the risk of a rare tumour on a nerve that connects the ear to the brain.
Dr Chris Desouza, ENT consultant with Holy Family Hospital, Leelavati Hospital and Tata Hospital, Mumbai, says it has not yet been proved that the use of mobile phones can adversely affect one's health in the long term.
"However, everyone should keep in mind," he cautions, "that when making and receiving calls, they are being exposed to minute doses of ionising radiation and microwaves."
As the saying goes, it is better to be safe than sorry.
Try to limit your exposure to radiation as far as possible, by implementing these simple measures:
i. Keep the mobile phone as far away from your body as possible.
For example, it would be better to keep it in your bag than in your pocket.
ii. Use your handsfree when making and receiving calls.
This is a simple rule that many forgo for no apparent reason other than ignorance, sheer laziness or because they forget to carry their handsfree sets with them.
iii. If you have something against the handfree or have forgotten it at home, switch your phone to the 'loudspeaker' mode, if your instrument has this facility.
You might need to take a little trouble, though, to find a private corner, so that the world is not privy to your conversation.
iv. If, for some reason, you do not wish to use either the handfree or the loudspeaker mode, keep your conversations short because the battery will heat up and you may get a earache. 
DON'T MISS!