ou are young.
Just when you think you are hale and hearty, you are diagnosed as being diabetic.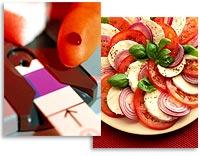 What you need is a good diabetic meal plan and exercise to control your blood-glucose levels and general well-being.
In a two-part series, diabetitians Priya Khanna and Seema Tarneja offer some solutions to make your life better! Here are some health and exercise tips:
~ Healthy tips for diabetics
1. Eat food at fixed hours.
2. Do not eat immediately after a workout.
3. Do not overeat.
4. If you are on insulin, make sure you have three proper meals with light snacks in between.
5. Do not eat fast; masticate and munch your food well before you swallow.
6. Drink a lot of water that will help flush the toxins off your system.
7. Make sure the gaps between your meals are short.
8. Avoid fried foods and sweetmeats.
9. Include fresh vegetable salad in every meal.
10. Have at least 20 to 25 grams of raw onion daily.
11. Add wheat bran to your wheatflour (50% wheatflour + 50% wheat bran). This helps increase fibre in your diet.
You can also make diabetic flour by mixing wholegrain cereal, soyabean, blackgram (urad dal), jowar, bajra, Bengal gram (kala chana), wheat bran and barley.
You can also add flaxseed and methi seeds into the wheatflour.
12. Include sprouts in the diet. Sprouts are a fountain of nutrients.
~ Now for that X-rated word: Exercise!
Exercise is a good way to increase calorie deficit.
But it is very important to take certain precautions before you exercise, especially if you lead a sedentary lifestyle. It is very important that you check with your doctor first before starting on an exercise regime.
Start an exercise routine that you will enjoy and stick to. Walking is the simplest aerobic activity. Cycling is a good form of exercise, too.
If you want to go in for other exercise regimes, please consult your doctor and fitness trainer.
Ensure you take the following precautions:
1. Check your blood-glucose levels before and after exercising.
2. Avoid exercising when you have just taken your insulin shot.
3. Avoid hot tubs and saunas immediately after exercise.
4. Always carry a carbohydrate snack, candies /sweets or juice.
5. Drink enough fluids to keep your body well hydrated.
6. Avoid alcohol consumption before and immediately after exercise.
7. Wear appropriate shoes and socks while exercising.
8. Always have an exercise partner.
DON'T MISS!