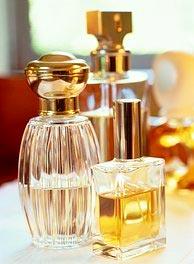 good perfume or cologne might prove heavy on the pocket. But it gives the best value for money compared to other packaged fragrances like deodorants, body sprays and eau de cologne.
First, they have the longest staying power. Just a whiff is enough to keep you smelling great for hours.
They also lend relief when you are crammed in public transport system!
"I find myself clambering for just a whiff of Dior's Dunes or Carrera, so that the fragrance can overpower less enchanting bodily odours," says Shirish, a collegian who braves the Mumbai local trains every day, and is saving up for his first bottle of cologne.
It is going to be Polo Sport by Ralph Lauren for Shirish.
And if you want to hike your appeal in the eyes of that guy or girl you fancy, do a little private investigation.
Find out his or her favourite fragrance. Dab some on and make sure you come within arm's distance of the object of your affection.
If there is a little chemistry already simmering just beneath the surface, tickling his or her nasal senses is sure to get you noticed instantly!
Now that we have established at least some of the benefits of owning a perfume, here are some tips on how to carry off perfume or cologne with sophistication:
~ Perfume etiquette
It is politically incorrect to drench yourself in perfume just because you like the fragrance.
If you do, your humongous cloud of vapour will follow you wherever you go, pierce every nostril in the vicinity and leave people choking on the smell for hours after!
Be a little altruistic. Try not to infringe on another's personal space.
Etiquette expert Dr Tushar Guha shares some subtle hints on how to wear your perfume right:
i. Choose your perfume with care depending on the occasion.
ii. A cocktail party, a meeting with one or two people, a day at the office, a corporate event, these occasions demand a little sophistication. So go with a subtle scent that does not jerk an unsuspecting nostril out of its peaceful reverie.
iii. But if you want to make a splash at a wedding, a party or on a night of clubbing, go in for something stronger, but nothing too loud, unless a 'loud' image is what you really want to project!
iv. We all want to be accepted and your choice of perfume should complement what you stand for.
Apply it with finesse
i. While applying your perfume, don't splash it all over your clothes. Apply it behind your earlobes, the upper sides of your palms and on the right and left side of your neck. These are your pulse points and the fragrance will sustain for a longer period. Besides, you won't soil your clothes.
ii. Even though you might have seen it in the movies, do not rub your wrists together after spraying on perfume. This reduces the effect of the top layer of perfume.
iii. If you like a little flamboyance, do it the filmi way, by spraying some into the air and walk through it. Now, you are soaking in your favourite scent!
iv. Keep the spray away from your nostrils, else you might inhale the chemicals. This could lead to breathing trouble.
v. How much should you apply? One round of application to all the pulse points will do. Unless you perspire a lot, in which case, you could go in for round two.
vi. Many people love to spray perfume everywhere, including their hair, handbag, cushions and sheets.
Well, go ahead and indulge yourself. But when it comes to spraying it on to your silk sari or tie, restrain yourself, else you will end up ruining your best silk!
~ Shopping tips
According to Vilobha Vijay Joshi, perfumer with International Flavours and Fragrances, and a 'nose' to be reckoned with, the same fragrance will smell different on two people as the body heat and inherent body odours are different.
So please make sure you test your perfume on yourself and not your friend. Else your friend will smell like lily of the valley, while you could emerge smelling like durian!
Perfectionists could try out one new perfume at a time.
The rest could test a maximum of four at a time. Otherwise, you will muddle up the spicy flavour of Yves Saint Laurent's Opium with the floral scents of Le Feu D'Issey, two diametrically opposing fragrance families. Besides, you will get a headache.
A fragrance will smell different several minutes after you apply it, so give it some time. Don't rush into buying any perfume.
The worst thing you can do is splurge on a perfume you are allergic to!
To avoid that, apply a small amount on your wrist, the inner elbow or the back of your hand or arm. Wait for about an hour.
If there is a reaction, you know this isn't the one.
~ What she wants
Indian women seem to like floral fragrances with a woody, musky base, possibly because it complements sultry, humid weather.
And a medium, 'fresh' scent is what entices them on a man.
Shalini, 26, who owns a boutique, has a dressing table lined with at least five designer perfumes at any given point in time. She scoffs at the thought of wearing a deodorant or body spray, because they get too 'powdery' after a bit.
"I only wear perfume," she says, "and prefer floral fragrances, because they are neither too strong nor too mild. My current favourites are Burberry Weekend and Clinique Happy. On men, I adore Polo Sport and recognise the fragrance instantly."
~ What he wants
Men tend to be brand loyal when it comes to their colognes.
Jitendra Tulsiani, 24, an executive with an IT company, began his affair with Carrera and Dunhill Desire Red and Blue seven years ago, and pledges staunch fidelity for a long time to come.
"They are neither too strong nor too mild," he explains. "I can wear them to the gym, to work, or just about anywhere without sticking out like a sore thumb, which would be the case if I wore an Armani, which is really strong."
A popular favourite among men these days seems to be Issey Miyaki.
But that is exactly what makes Aman Arora, 26, who manages business excellence at an insurance firm, steer clear of it!
He likes his colognes to be 'distinctive', and personal favourites include Bazaar by Christian Lacroix, Dior's Fahrenheit, Armani's Acqua Di Gio Pour Homme and Carolina Herrera's 212.
"And Estee Lauder's Pleasures is fresh yet heavy and very becoming on a woman," he adds.
Other favourites that men fancy on their women include Hugo Boss, SCUK and Paloma Picasso, which lend a feminine appeal.
It doesn't matter if you have the hottest body in town, but if you smell of sweat and grime (except when working out in the gym or any other kind of workout), you won't be very popular with the men!
Smelling good is definitely a way of making yourself more desirable in the eyes of the opposite sex (or the same sex, if you please)!
~ A fragrance for your persona
Choose a fragrance that will enhance your aura, not overpower it!
Get fresh with these!
Vivacious, mischievous, exuberant and always living it up, you need a fragrance that is fresh and rejuvenating. You will smell of citrus, sea breeze and fresh dew with these!
Picks for men: Boss by Hugo Boss; Calvin Klein's cK One; Ralph Lauren Polo Sport and Dunhill Desire Blue.
Picks for women: Davidoff Cool Water; Donna Karan Be Delicious; Issey Miyake L'Eau d'Issey.
Floral favourites for women
If you like a touch of romance in everything you see, smell and touch, a floral scent will complement your appeal, have you smelling natural and feeling fresh as a daisy.
Picks: Chacherel's Amor Amor, Burberry Weekend and Carolina Herrera Carolina Herrera.
Oriental Spice
This one is for the those who ooze natural confidence and sophistication. They know what they want and have a way of getting it. Spice it up with these fragrances.
Picks for men: Alfred Dunhill Dunhill.
Picks for women: Giorgio Armani Sensi, Kenzo Flower, Dior Poison.

Woody fragrance for the sensual
Are you sensual yet classy, free-spirited yet grounded, nurturing yet confident? Then woody fragrances are for you.
Picks for men: Burberry Brit For Men, Dior Fahrenheit, Carolina Herrera 212 H2O Men.
Picks for women: Yves St Laurent's Opium, Calvin Klein Obsession.

An aromatic blend for men
If you value all that is classic, exude true machismo and are a self-made man, this one is for you. A potent mix of berries, citrus, lavender, spices and more will help you tap into your feisty side!
Picks: Gendarme Gendarme, Calvin Klein Eternity For Men.
Note: The average prices of these perfumes range between Rs 1,750 (50 ml) and Rs 2,750 (50 ml).