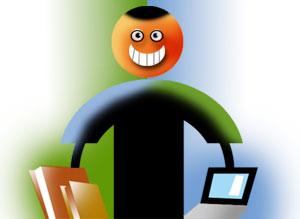 ine years, five jobs and one entrepreneurial venture later, Prakash Advani, 33, decided to go back to college.
He already had a bachelor's degree in commerce and a diploma in catering and hotel management.
But eight years of tumbling through the corporate world made him decide he needed a master's degree in economics.
Advani signed up as a student at the University of Mumbai's Distance Education Centre.
"I wanted a master's degree because I feel it adds credibility to my resume. At the managerial level, I have found that having a post-graduate degree gives you an edge over others. But I cannot afford a break at this stage in my career and I didn't want courses that would leave me with little time for other things in life," he says.
One year into his course, Advani says he has found himself a fine deal: the programme is inexpensive -- the annual fees are less than Rs 4,000 -- while still having on it the stamp of the venerable Mumbai University.
Advani can also study at his own pace, relying on the syllabus and the books the university provides. There is also the added advantage of having no minimum attendance requirement to meet, he says.
Advani is one of many people who are taking advantage of distance learning programmes that are becoming popular as professionals try to balance their jobs with their academic aspirations. A blend of both, in the form of a professional post-graduate degree, could embellish their resume significantly, they reason.
Many universities have now restructured their post-graduate distance education courses to help professionals like Advani.
According to Professor Harichandran at the Mumbai University's Distance Education Centre, "There is absolutely no difference in the degree conferred to a student in the distance education centre [from the one offered in the full-time course]. They [distance learners] have the same syllabus, sit for the same examination and are finally awarded the same degree as full-time students in colleges."
The centre has 50,000 students enrolled for part-time courses and offers courses for both undergraduate and post-graduate degrees. For instance, one can join the university to get a bachelor's degree in arts or commerce or a master's degree in subjects like economics, political science, history, ancient Indian culture, maths and commerce.
The lure of a post-graduate degree
Software professionals have been particularly taken up with the lure of a post-graduate degree. Companies like Wipro and Oracle have partnered with the Birla Institute of Technology and Science, Pilani -- one of the leading technical universities in India -- so that their employees can sign up for the institute's distance education programme.
BITS-Pilani offers master's degrees in technical subjects like e-business, microelectronics, engineering management, consultancy management, software engineering and telecommunications.
Besides graduate level courses, it also has M Phil programmes in areas like Hospital and Health Systems Management and Optometry.
Many of BITS Pilani's programmes are offered in partnership with companies like Oracle, Wipro, Cognizant, Satyam Computer Services and HCL Technologies.
Companies today encourage their employees to study further.
Between 1979 and 2003, over 21,000 candidates have been admitted to off-campus programmes. Of these, over 11,000 candidates have successfully graduated. There are about 10,000 candidates now on the rolls, says Dr B R Natrajan, dean of the institute's distance education programme.
The two-year programme is spilt into four semesters -- three devoted to academics and one to the student's project.
According to Babu Rajendra Kumar, who works at Oracle's Hyderabad office and who is studying for his master's degree in software systems, "Course topics are updated every semester. So we keep in touch with the latest technology. At work, you are stuck with three to four software languages. But if I do this course, I learn more than what I do at office and that helps build me both personally and professionally."
Weighing the pros
Kumar took some time to settle on the BITS programme, thinking long and hard about the advantages of programmes at Madhurai Kamaraj University and Guru Gobind University before deciding against them.
Harichandran says the programmes take time to evolve, with personnel at Mumbai University's distance education division sitting with other university professors to put together material suitable for those studying on their own.
Besides printed study materials that students get when they sign up, most universities also offer pre-recorded audio and video cassettes.
Distance learners can also e-mail professors or keep in touch through computer conferencing and interactive video-conferencing.
But it is not all smooth going for the students. "Sometimes it does get difficult," admits Kumar. "For each course, we have read at least two books. I have to cut down on entertainment and turn weekends into study weekends." Kumar has studied through weekends for at least three months.
The institutions try to make things a little easier by putting up examination centres closer to home.
BITS Pilani offers over 15 examination centres throughout India, one in Dubai and one in the US.
Kumar naturally gave his exams at Hyderabad, where he lives and works.
But Mumbai University has no plans to relax the rules. It holds examinations only within the city though it does not demand that students be residents of the city to sign up for its courses.
For more information, please visit
Illustration: Dominic Xavier