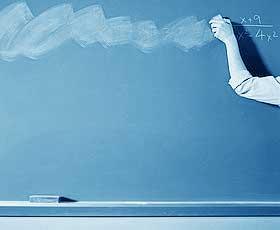 eachers are part of our earliest memories.
We spend much of our educational years being guided, taught and trained by them.
Teachers are often great influences on young minds.
Being a teacher can be immensely fulfilling. But do you know the options open to you in the field of education?
Here are some avenues you can explore.
~ What it takes to be a teacher
There are some questions you need to ask yourself before you become a teacher.
Do you:
~ Want to work with young people on a daily basis?
~ Have good communication skills and a pleasing personality?
~ Have patience and tolerance and an ability to stay calm under pressure?
~ Feel you are sufficiently qualified?
~ Have the ability to make even those who are not keen on studying take interest in a subject?
~ Career options
Teaching is a vast field and there are many options to choose from.
You can teach at play school, primary school, middle school, high school, college/ university.
Or specialise in arts, sports or languages at any level of your choice, work in special schools for children with different needs or hold private tuitions at your home or any convenient location for an age group you feel you can teach.
Depending on your qualifications and where your interests lie, you can pick a particular area of specialisation.
~ Eligibility
Depending on your choice of teaching specialisation, these are the qualifications you need to have:
1. Nursery/ Primary schools
~ You must have nursery teachers' training, like Montessori or other equivalent systems.
~ The minimum qualification to be eligible for training is an education level of 10+2.
~ At the nursery level, you teach children who are between three to five years old.
~ At the primary school level, you teach children who are betwen six to 11 years old.
Nursery teachers play an important role in the growth and development of children. How the children are shaped here decides the future of their lives.
Teachers here introduce the children to the concept of numbers, language, science, social skills, etc, using games, music, artwork and other teaching tools.
Kamini Patil, a parent, says, "My son's world has expanded tenfold since he started going to nursery school."
2. Secondary schools
~ You must have a Teachers' Training Certificate or its equivalent.
~ The minimum qualification to be eligible for the certification is an education level of 10+2.
~ Secondary school teachers specialise in one or two subjects and need to have a good understanding of their specialisation.
3. High schools
~ You must have a Bachelor of Education degree. 
~ The minimum qualification to be eligible for this course is a graduate degree in any discipline.
4. Colleges/ Universities:
~ You must have a post-graduate degree, preferably with a doctoral degree.
~ You also have to pass the National Eligibility Test conducted by University Grants Commission. 
Lecturers are more specialised. They teach in a particular field only and also guide their students in academic and research projects.
~ The University Grants Commission conducts the NET exam in June and December every year.
The notifications announcing the June and December examinations are published in the months of March and September respectively in Employment News.
~ You need to pass this exam in order to be eligible to apply for a lectureship and/ or Junior Research Fellowship.
~ The Council of Scientific and Industrial Research conducts the UGC_CSIR NET exam for other Science subjects, like Life Sciences, Physical Sciences, Chemical Sciences, Mathematical Sciences and Earth Atmospheric Ocean & Planetary Sciences jointly with the UGC.
~ NET is conducted in Humanities (including languages), Social Sciences, Forensic Science, Environmental Sciences, Computer Science and Applications and Electronic Science.
Around 50,000 candidates appear for the test every year. The passing percentage is as low as five percent. This is because the UGC tries to maintain a high standard for entrants into lectureships and research fellowships.
~ The State Level Eligibility Test for lectureship eligibility is another exam conducted by different states for eligibility to apply for the post of lecturers in that state only.
SLET is based on the pattern of the National Eligibility Test conducted by the UGC and UGC/ CSIR for Humanities, Social Sciences and Sciences subjects respectively.
Candidates appearing for SLET can answer the paper in their own mother tongue or in English. 
Here are the states that conduct SLET: 
Maharashtra and Goa
Gujarat
Tamil Nadu
Madhya Pradesh
Andhra Pradesh
Himachal Pradesh
Uttar Pradesh
Rajasthan
West Bengal
North Eastern States, including Sikkim (under consideration)
5. Special schools
~ You need a diploma in special education.
~ The minimum qualification to be eligible for the diploma is 10+2 education.
Teaching children with physical, mental or learning disabilities is a truly challenging job that requires great patience and skill.
This is also different from other teaching areas in that you will be required not only to interact with students and other teachers but also with therapists, psychiatrists and other medical professionals as well.
6. Home tuitions
~ If you want to join a coaching centre or any institution, you are expected to have some teaching experience or a B Ed degree.
~ But if you are teaching from your own home and are not affiliated to any institute, it is only your ability to teach that makes the difference.
This is suitable especially if you have young kids at home and cannot leave the house for long periods of time.
Rupa Abraham has had a rewarding experience with home tuitions. She says, "Tuitions allow me to work from home, at flexible hours and earn good money. What more can you ask of your chosen career?"
~ The remuneration
Starting scales at government colleges are Rs 8,000 basic pay.
With DA and other additional benefits, it will go up to Rs 10,000.
In other colleges, lecturers draw a salary of Rs 6,500 to Rs 10,500 at the entry level.
Senior lecturers can get around Rs 8,000 to Rs 13,500.
The pay scale of professors ranges from Rs 12,400 to Rs 22,400.
IITs and other professional institutions offer the best salaries, while arts and science colleges usually pay only the minimum stipulated by the government.
School teachers make less money and can start as low as Rs 3,000.
~ What about career advancement?
This can be slow and if you want to get rich quick, teaching is not for you.
The rewards of teaching can't often be measured in money alone.
It is about the excitement you feel when you finally get a totally disinterested student to respond in class, when you succeed in teaching a difficult concept to your students or when you find they have all done very well in their examination papers.
It could also be parents coming to thank you for making a difference to their children's lives and the love and respect of your students themselves.
As Bernie John, who works at a private city college, says, "You can take up this profession only if you love the job. Teaching is its own reward."
~ The advantages of teaching
i. You are your own boss most of the time.
ii. You get to work with young minds and hence are aware of the changing world.
iii. Jobs are available everywhere, both nationally and internationally.
iv. You get to be home earlier as schools and colleges require your presence only for a limited number of hours during the day.
v. You get annual vacations, which means more time with your family.
vi. There is immense satisfaction in shaping young minds and, ultimately, the future of the country.
~ The disadvantages of teaching
i. Financial rewards are not always high.
ii. Although you can come home earlier than most other people, you will have paper corrections, test papers to set, lessons to prepare for and so on, making your working day longer.
You don't get any overtime or other benefits for this.
iii. Teaching is a physically and mentally demanding job that tests your endurance and patience.
iv. If a class does badly in your subject, you will find it disheartening and demoralising.
If you are passionate about making an impact on the future of our country; if you feel that satisfaction is not just about money but more than financial; if you are looking for a career that combines autonomy with flexibility, teaching is the way to go.
For guidelines on teaching in higher education, please visit:
The University Grants Commission (UGC)
National Council for Teacher Education (NCTE)