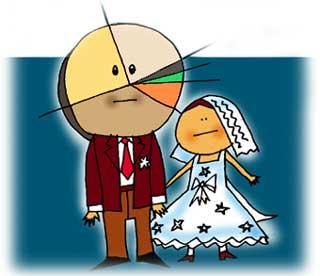 t is one of the most memorable and most important days of your life.
No one is blaming you for wanting it to be absolutely perfect.
But that does not mean you blow up all your savings and take a loan to make it happen.
Whether your wedding is a few weeks or a few months or a year away, you have got to start with two things: pen and paper. Now you can draw up a plan and a budget.
Let's start, shall we?
The first step to "I do"...
The key is to start with a budget. Once you have that in hand, you will be able to determine how many people you can invite, where the venue should be, the type of invitations to design as well as all the other expenses.
Everything flows from the budget.
If you work the other way round, you could end up throwing the bash of a lifetime which will set you back by at least Rs 15 lakh. If that's what you want (and can afford), great.
If not, let's get started on those figures.
How much can you cough up?
These questions should help you find the answer:
1. What are your savings (please don't wipe them clean)?
2. Will you be taking a loan (either from family or a personal loan from a bank)?
3. Are you planning on selling your shares to finance the wedding?
4. Are any fixed deposits maturing?
5. Do you expect to get a lot of cash as wedding gifts which can offset the payments?
6. Are your parents paying for it or do you have to spend for it out of your pocket?
7. Are the costs going to be split between the two families? If yes, is it going to be equally divided or will it be based on the number of people invited by each side? 
What will you be spending on?
1. How many guests do you plan to invite?

You may want 200 guests. Your spouse-to-be is looking at 400 as a more likely figure. Your finances say 150.

Don't fight.

Start by listing all the names of close family, far and near relatives, friends, acquaintances, neighbours and office colleagues.
It is only when you have all these names down in front of you that you can decide which ones to eliminate and which ones are a must. Which families will only have the couple invited and which ones will have the kids too.
2. The venue
The venue is a very important aspect of a wedding and can be a big bone of contention.
It should be decided upon after you come up with a guest list. If it is a small wedding, you need not book a huge ground or hall.

When you have it in a hotel, you will be given a per person quote. This will include the food, beverages, rentals and taxes and could start from Rs 600 upwards. This, of course, will never include the cost of liquor, which is always given separately.

If you have not chosen a hotel as your venue, you will have to pay separately for the grounds/ hall and the catering.

Very few venues have the option of paying for the rent of space and then getting your own decorator or caterer. What many of them do have is an affiliated caterer and decorator. You have take the entire package deal.

The venue itself will set you back by thousands, depending on how large the grounds are and where they are located.
3. The décor
A majority of banquet venues have a monopoly of decorators working with them. Your choice, thus, is quite minimal.
Decor is becoming more and more extravagant at weddings and starts from Rs 50,000 upwards.
4. The entertainment
Entertainment in the form of a live band, recorded music, a DJ or even dancers based on your theme could start from Rs 25,000 upwards.
5. The invitation cards
Once the venue, the number of guests and the wedding date is fixed, get cracking on the cards.
This is the first impression a guest will have of your wedding, so give careful thought to its design.
You could even take the help of a designer who will design the invites to your taste. S/ he will also create your other wedding stationery like thank you notes. They can all have a common colour theme or a design.
Designer cards start from Rs 50 upwards.
6. Your beauty regimen
The toughest thing to budget for is personal grooming.
For the bride
How much are you willing to spend on your outfit and jewellery? 
Make-up and hair styling could start at Rs 6,500 onwards. Not to mention the pampering one can do at a salon before the final day.
Bridal mehendi starts at a good Rs 2,500 and can go up to Rs 10,000 and even more, based on the amount applied and the kind of designs incorporated.
Over to the groom
First of all, there is your grooming at the salon.
Then, the bandwala with the ghodi (mare) for the procession will charge Rs 6,000 to 8,000 onwards.
7. The pandit
A pandit normally doesn't ask for a fee. That is to say, he will accept whatever is given to him.
Normally, they would receive between Rs 5,000 to Rs 7,000.
8. Your wedding car
What will you be driving in? 
Are you hiring a Mercedes Benz? 
Will you also be hiring cars for the rest of the family?
9. The photographer/ videographer
It is vital to choose your wedding photographer after having seen some of their work.
Photographers usually charge per roll of film used, in which they include their fee as well. This could vary from Rs 1,500 upwards.
Videographers charge on an hourly basis from Rs 6,000 to 8,000 per session of four to six hours on an average.
10. The list goes on...
Don't forget to look at other aspects that could cost you.
Are you planning an elaborate trousseau?
Do you want to decorate your home either with lights or flowers?
Do you want to decorate your car?
Do you have to provide accommodation for outstation guests?
What about transport for them?
Any elaborate pre-wedding functions -- like the mehendi, sangeet, haldi, bachelor's/ spinster's party -- in mind?
What about post-wedding ceremonies/ poojas?
Do the estimates compare well?
Visit at least four suppliers in each category. For instance, check out at least four venues, four photographers and so on. This will give you a broad indication of what the market rates are.
Make sure that when they give you a price, you are aware of what is included. This way, you won't think Rs 500 per head is much better than Rs 700 per head for food only to realise later that beverages and a more elaborate menu were included in the latter. 
How must you tailor your budget?
Once you draw up your list of expenses, don't panic if it is way above what you can afford.
Prioritise them.
This will enable you to figure out what you can compromise on and what you will not compromise on.
Maybe you are not willing to let go of the fabulous location (the venue is just too romantic!) but are more than willing to make your wedding very exclusive (the guest list can be slaughtered!).
Or, maybe, you want to spend more on the exclusive designer outfit than the entertainment.
Fine. It's your day after all.
Keep reviewing your budget. If you have gone a little overboard with the menu, you may have to cut down on the décor.
Ultimately, you will have to figure out where you can pinch rupees without sacrificing your vision.
Be organised
Keep a file with all the quotes, contracts, agreements, vouchers and bills.
Make note of the cheques you issue. Note down the details: to whom, how much, the cheque number, the date.
If you are making payments in cash, keep the signed vouchers safely.
In the excitement of the wedding, you don't want to be running all over the place looking for receipts. 
PS: The costs stated are more tilted towards the medium and upper range. You can get all of it for less, but may have to compromise on quality.  
Tejal Kadakia is a wedding planner assisting in the planning, management and co-ordination of weddings.
Illustration: Dominic Xavier