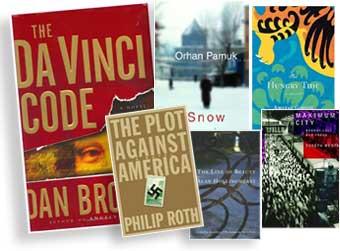 f there is one attribute that distinguishes the human race from other species, it has to be our fascination with lists.
Among the first books to be written were books of classification -- medicinal plants, body parts, dreams, stars and constellations.
In the 21st century, we have books that list lists, lists of anti-lists, lists of imaginary lists, lists of unwritten lists.
They proliferate at the beginning of every New Year, an appeal to the human instinct to create order out of chaos, to serve as shorthand diaries intended to remind us of what we enjoyed most about the year just gone.
There were so many year-end lists of books to go through in 2004 that they would have made a respectable book, especially if you include stuff like The New York Times' phone directory-sized lists, and add in such useful things like literary bloggers' lists of what was overlooked during the year.
In the spirit of the season, I compiled my own set of lists -- in a dhobi list rather than in encyclopaedic fashion.
Despite the impression that Dan Brown's The Da Vinci Code was the only book that stores needed to carry in 2004 in order to keep the balance sheet in the black, there was a lot out there.
Orhan Pamuk's Snow and Philip Roth's The Plot Against America stood out among new literary fiction.
Though Alan Hollinghurst won the Booker Prize with The Line Of Beauty, many, including this critic, preferred David Mitchell's exuberant and wildly experimental Cloud Atlas.
And Nadeem Aslam kept the subcontinent's flag flying with Maps For Lost Lovers, which took 11 years in the making and was worth it.
But the real surprises came out of genre fiction.
Marjorie Satrapi's Persepolis 2 continued her story of growing up in Iran in graphic novel form; Art Spiegelman pushed the boundaries of polemic in the magnificently produced In The Shadow Of No Towers.
Stephen King came back with another Dark Tower book, but the most astonishing literary debut of 2005 was Susanna Clarke, whose stupendous, 800-page-long tale of magic, Jonathan Strange And Mr Norrell sprained my wrists and stole my heart.
~ Best Books in English (with an Indian twist)
Several of the old guard came back with novels ranging from good to brilliant. Anita Desai's The Zigzag Way and Amitav Ghosh's The Hungry Tide, in particular, broke new ground.
But the two debut works that stood out for me both came out of Mumbai.
Suketu Mehta's Maximum City chronicled 'a city in heat' with unflinching passion.
And Gregory Roberts' Shantaram was an ex-convict's paean to a city he knew through its alleyways and slums.
It was also a year of experimentation: Sarnath Bannerji's Corridor sparked off an interest in the desi graphic novel, Samit Basu's Simoquin Prophecies and Ashok Banker's Ramayana-inspired sword-and-sorcery saga put Indian SF and fantasy on the map.
And the historical novel received a slight fillip from Timeri Murari, Indu Sundaresan and Kunal Basu.
~ The Duds
The search for overhyped, overblown and underwhelming books yielded almost too many results.
~ I reserved comment on this year's Nobel Prize winner, Elfriede Jelinek, until her books became available in translation.
Reading them was a dispiriting exercise: she combined the worst in European gloominess with stale polemics and self-conscious attempts to shock the reader, presumably out of the stupor induced by reading too much Jelinek at one go.
~ Nor was V S Naipaul's much-awaited Magic Seeds much better. Despite attempts by Naipaul partisans and those of us who loved his early work to salvage some shreds of meaning from his staccato, tired prose, it became rapidly obvious that the Emperor had no clothes.
The best that could be said of Magic Seeds is, in criticspeak, that it showcases the disillusionment and exhaustion of a great writer. The worst that could be said wouldn't bear repeating in this column.
The other big disappointments of 2004 offered excellent comic relief, for which we were duly grateful.
Siddharth Dhanvant Shanghvi's Last Song Of Dusk was compared to the best of Rushdie and Seth. A long and tactful pause here indicates what we think of this comparison.
But Shanghvi redeemed his feverish, overwrought prose with a startlingly vivid imagination, and might yet be a writer to watch.
No such excuse can be trotted out for Tom Wolfe, who topped Shanghvi effortlessly in I Am Charlotte Simmons, which featured sentences like 'Rutrutrutrutrutrutrutrutrutrut.' (Assuming I haven't lost count; as Wolfe no doubt discovered, once you've begun writing at this level it's hard to know where to stop.)
Both of them were up for the Bad Sex Award. Wolfe won, to no one's surprise.
~ RIP
Perhaps I am growing old, but it did seem that the writing community lost far too many authors in 2004.
Dom Moraes, Nissim Ezekiel, Arun Kolatkar -- three poets died, one after another.
Mulk Raj Anand died in his nineties, and his age made us look back across a century and more of Indian writing in English.
Shama Futehally died of cancer. She had several projects on hand, including a novel centred on the Uphaar tragedy, and she left many of her friends and admirers deeply regretful about the work that would now remain unfinished.
The year 2004 also claimed Francoise Sagan and Susan Sontag; the latter remained outspokenly critical of the US war in Iraq and the Bush administration, a lone voice in a country that had suddenly begun to place patriotism above dissent and critique.
Each loss was deeply felt.
Moraes and Kolatkar had both just released collections of poetry shortly before their deaths. Sontag had been working on a collection of essays and new criticism. We mourned not just these writers, but the works they had left unwritten, the sense that instead of a full stop to their lives, we were left with a comma.
~ The Year Ahead
This year will have its fair share of surprises -- new authors as yet undiscovered, works in translation recovered for farflung audiences, great novels by old warhorses.
Here's a quick look at what to expect.
~ The second volume of Gabriel Garcia Marquez's memoirs should be out in translation from the Spanish.
~ Salman Rushdie's novel, Shalimar The Clown, will be out soon.
~ Martin Cruz Smith has just resurrected Arkady Renko from Gorky Park in Wolves Eat Dogs.
~ And Kazuo Ishiguro is publishing a new novel.
~ J K Rowling has announced that Harry Potter And The Half-Blood Prince will be out on July 16, manna to hordes of starving fans and needy booksellers.
~ Among Indian writers, Vikas Swarup's Q&A is the new Sari Shop, or the new Last Song of Dusk, depending on one's perspective.
~Personally, I am far more intrigued by Rana Dasgupta's Tokyo Cancelled, due out this month.
Have you read a book you thoroughly enjoyed?
Would you like to recommend it to our readers?
Go ahead. Write your review and send it to us.
Your review should be somewhere between 500-700 words.
Do send us your name, address and phone number as well.
DON'T MISS!
Catch up on your reading this holiday season!
Image: Dominic Xavier