or those who need guidance on the BPO sector, this is the right place to be!
Our BPO training expert, Nasha Fitter, spoke to Get Ahead readers for an hour recently.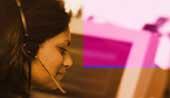 This is a transcript of the chat.
vijay : I am a banker with five years of experience. I have an MBA in finance. I am looking for a managerial position in a BPO. Do I stand a chance?
Nasha Fitter : That would depend on your team-building, leadership and motivational abilities. If your prior experience encompasses these skills, you have a chance. Again, it also depends on the specific BPO.
---
asgharhussaink : How can I improve my communication skills so I can get into a BPO firm? I work at the corporate office of a firm that deals with the export and import of leather. I want to switch to the BPO (Non-voice/ Customs-related BPO job) sector.
Nasha Fitter : As I have already said, focus on your pronunciation, diction and intonation.
---
umesh.kamath : Does one really need to be a graduate and have other certifications to get a job in the technical department of a BPO, even though he may have the expertise and experience?
Nasha Fitter : Yes, as far as I know, to get a job in a BPO focused on technical processes, a certificate is required.
---
vy : Is it true that the BPO environment is very advanced?
Nasha Fitter : The enviroment in any BPO is fast-paced, challenging and dynamic. I think it is a great place to be if you are energetic and ready to learn.
---
kumar : What would you say is the future of the BPO sector?
Nasha Fitter : I think the future of the BPO sector is looking strong. And Indian companies need to keep focusing on quality and creative solutions for their clients.
---
sangram : What are the sales jobs available in BPO? My forte is international sales.
Nasha Fitter : If you are really interested in sales, I would suggest a BPO with an outbound sales process.
---
sam : hi nasha, i am a B Com graduate looking for a career in the BPO industry. How should I proceed? Should I go in for formal training? What are the different avenues of work?
Nasha Fitter : If you clear your interview, a BPO will provide you with extensive training.
If you find it hard to clear the interviews, perhaps you should look into private classes to improve your communication skills.
DON'T MISS!
Part I: Got the skills for a BPO career?
Part II: Assess your BPO skills!
Part III: Why do people join BPOs?
How to handle abusive BPO customers
Do you have a question for Nasha? Write to us!
Nasha Fitter operates Fitter Solutions, a communication and training organisation with expertise in public and interpersonal communication.