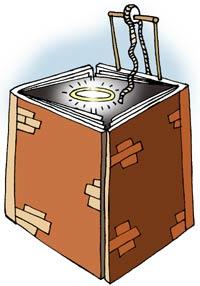 I'm reading The Da Vinci Code." That's one example. That and "The one book I'd love to be stuck with on a desert island is Conversations With God."
The next television star to spout those statements to the press is going to get it from me.
I understand, of course, that celebrities need to show the rest of us that they're literate. I sympathise completely because, let's face it, few of them are. At the same time, to pick titles that are strong contenders for 'Ghastly Prose of the Year' awards is tragic.
Consider this, from the opening lines of The Da Vinci Code: 'Jacques Saunière staggered through the vaulted archway of the museum's Grand Gallery. He lunged for the nearest painting he could see, a Caravaggio.'
If this were a scene in a film, it would give Martin Scorsese a brain aneurysm. Why does Saunière 'stagger' through the archway? Why does he have to 'lunge' for the nearest painting? Why mention the revolutionary Merisi da Caravaggio, when approximately four of Dan Brown's readers will probably have heard of him?
The clichés continue to 'run amuck.' The curator's attacker boasts a 'mountainous silhouette.' He is 'broad and tall, with ghost-pale skin and thinning white hair.' His irises are, apparently, 'pink with dark red pupils.' This attention to detail from a man who, a minute ago, was staggering about and lunging for Caravaggios?
To be fair, the book is exciting. It abbreviates a whole lot of research (try Michael Baigent, Richard Leigh and Henry Lincoln's Holy Blood, Holy Grail, or Elaine Pagels' The Gnostic Gospels), throws language out the window and plunges headfirst, in medias res, into murder, secret societies and implausible escapes -- like any good thriller ought to. What makes its popularity tragic is the inability of our celebs to name (or at least pretend to name) thrillers that are far better written.
Like The Name of the Rose, for instance. Yes, the film with Sean Connery helped, but why isn't the book as popular? Yes, it was a worldwide bestseller, but why is it so hard to find more than a few, dusty copies? Yes, it starts off with murder too, but why has the implicit critique -- of the illusory nature of knowledge -- in the writing ignored? Interestingly, Umberto Eco, the Italian semiotician who -- thank God -- decided to try his hand at literary fiction, first considered the title Murder in the Abbey. He dropped it because it would highlight the murder, while glossing over the actual text, which was meant to be open to layers of interpretation.
The celebrities don't care. They've been inundated with bad scripts for far too long.
Take Conversations with God, another celeb favourite: 'It changed my life,' they say, in low, moving tones. 'I was close to tears,' and 'It made me think.' While the latter sentiment is praiseworthy, I realise I was moved to tears too, but for altogether different reasons. I couldn't, for the life of me, understand why Neale Donald Walsch insisted on saying things like 'The goal of your life is to seek what is truth and love -- to find, choose, create, become and make the experience of who you are and who you want to be.'
I wept. What the heck was he talking about? If the goal of my life were to 'create, become and make the experience' of who I was, I'd be far too busy to get an education or manage a career. I would have had to spend a ridiculous amount of time simply trying to transcribe that passage into colloquial English!
Anyway, I assume Walsch is, by now, too busy managing all that money to start creating 'his experience' of who he is.
Example three: Not too long ago, a photograph of a celebrity in a national newspaper showed him lounging on a messy bed with a copy of Ulysses by his side. The book was placed carefully, making the title difficult to miss. I came up with three possible reasons for its presence: One, the said celebrity used it as a prop for his small feet; two, he probably started it at 15 and was still struggling to reach page 56; three, he thought it was the funny book that gave rise to the character Homer, in The Simpsons. Why couldn't he just lie in bed by himself?
The thing is, great literature has always managed, down the ages, to tell us more about who we are and what we ought to aspire to. The pleasure it offers is just an added incentive. Whether it is Tolstoy's attempt to 'defamiliarise' and make new, or Alan Hollinghurst's uncanny grasp of the divinity that exists even in the mundane, great writing has long had the ability to make us better human beings.
Not that our celebrities care. They've moved to other pastures of bad writing. Dan Brown's Angels and Demons is, apparently, the flavour of the month.
Image: Uttam Ghosh