You have an average body structure, but you want to exude style and look suave.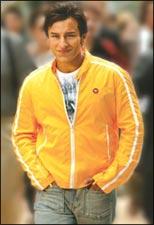 Fashion designer Ashley Rebello, who chatted with Get Ahead readers on December 2, says that having an average body is not a disadvantage. What is important is how you carry yourself.
Ashley has styled for Bollywood films like Chameli, Company, Kasak, Kareeb, Page 3, Karam, Hum Hai Raahi Pyar Ki, Koi Aap Sa and Shabd, to name a few.
He has dressed a bevy of stars like Shah Rukh Khan, Aishwarya Rai, Sushmita Sen, Aamir Khan, Tabu, Priyanka Chopra, Mallika Sherawat, Karishma Kapoor and Ayesha Takia.
In the pipeline are Madhur Bhandarkar's Corporate, Subhash Ghai's Shaadi Se Pehle and Pyar Ke Side Effects, a romantic comedy starring Mallika Sherawat and Rahul Bose.

For those of you who missed the chat, here is the transcript:
Part I: What to wear on a date
---
vinu: HI ashley Please answer me .... wat kinda dressing can make me metrosexual????

Ashley Rebello: Vinu, follow Aamir Khan in his latest movie Rang De Basanti, Saif all the time and Shah Rukh all the time.
Being metrosexual is an attitude. It means getting your eyebrows done, regular facials, manicures, pedicures, wearing a fitted shirt, probably in stripes or prints to suit your colour, the hippest latest jeans and shoes in town... Don't forget the trendiest hair cut, probably well coloured. And, voila! What do we have? The new Vinu!
---
sunaina: hi ashley, i'm vegetarian but my boyfriend insists on my wearing trousers. can a salwar kameez be made to look fashionable enough so I can convince him? He's non-vegetarian.

Ashley Rebello: Sunaina, I don't see the connection between being vegetarian and being fashionable. But if your boyfriend insists on trousers, get yourself slim-fit pants or capris and team them with long kurta shirts or knits with a lovely printed scarf. There, you have the complete Western look for him and you can be happy with your three-peice ensemble.
---
shilpi: hi!!!ash,i want to know the in lingerie colors for 06 spring summer.

Ashley Rebello: Shilpi, the colours for spring summer are bright turquoise and fuschia pink.

---
saumya: Hi Ashley, I am a 5'1" tall (or may I say short) female. I am 5 months' pregnant and I find myself at wit's end trying to decide what to wear to the office or otherwise... I prefer wearing western formals but since I weigh around 66 kgs now, I look ghastly in a pair of trousers and shirts! Do I have any other "affordable" and smart options left? Should you need to know, I have a dusky complexion and short frizzy hair! Please help!!! Thanks in anticipation....

Ashley Rebello: Hi Saumya, like my friends tell me being pregnant is one of the most beautiful things that they have experienced. But I do know it comes with a lot of excess baggage and comfort is the key word you are looking for. Firstly, stop wearing maternity clothes because I think the ones you get in India are ghastly.

If you are a size medium now, get yourself one size bigger outfit. Try wearing white linen drawstring capris and a long kurta just covering your hips or a long skirt in cotton crushed and a large tee shirt preferably full sleeved or a wide neck sleeveless shirt up to your hips, cut on the bias, with elastic capri trousers. You can add drawstrings to the cuffs of your pants to make it look more trendy. I've even given my friends Thai wrap-around pants which they love. 
---
tyagi.aman: do you have any institute where you give training

Ashley Rebello: Yes, I do. It's called NIFD. I am the brand ambassador.

---
FashionVictim: Ashley, are you ignoring me? Please answer my questions or just say a Hi...thanks

Ashley Rebello: What's the question?

---
manoj: hey do you think black trousers are not good for good occassions?

Ashley Rebello: Hey Manoj, which century are you living in? I know it's considered inauspicious, but it looks great for evening formal wear.

---
nidhituli: Hi Ashley, I think you are a great designer, I loved your work in Josh especially.

Ashley Rebello: Thanks Nidhituli.

---
Kishan: Hi Ash, What matters most..dress or the physique ?

Ashley Rebello: Hey Kishan, it's more about the right kind of dressing cause if you wear the right kind of clothes, you could look smashing.
---
sandeep: ashu pls ans this 1 !do hair colouring important to make a style statment ! is it harmfull for hair.

Ashley Rebello: If you are of a stylish kind of person, colouring your hair would be considered appropriate. The only thing is -- taking care of your hair after it's been coloured and using the right kind of products to protect your roots is of uttermost importance, else you will be looking out for a wig.

---
Shweta: hey ashley...I am 21 years old FEMALE from delhi.I am 5'5" 58kgs...Plz suggest sth good for parties in winter as i m bored of wearing sweaters...

Ashley Rebello: Okay Shweta, a V-neck really sexy top with thermals inside in skin colour teamed with a knee-length slightly asymmetrical skirt in black would look stunning on you. The thermals take care of the winter, yet making you look very hot.
---
anjali: hi Ashley, am tall..5ft 8, and high waisted..my hips are a little heavy and am slightly on the plump side. Could you please tell me what would look good on me regarding western or indo western outfits, thanks

Ashley Rebello: Anjali, being tall is wonderful because you can look down on others! Wearing chiffons and georgette skirts in knee-length skirts and cut at the bias (flare) is wonderful for your kind of body.

Wear them really low-waisted, teamed with more fitted lycra-based tops. The skirt and top should have distinctive colours, thus cutting your height and making you look slimmer and beautiful. Solid colours would do the trick.
---
Jyoti: Hi Ash Jyoti here I am 30 yrs young girl working female i am healthy and fed up of wearning salwar kurtas please suggest me official outfit

Ashley Rebello: Hi Jyoti, feeling young is great and wearing the right kind of clothes would be even greater.

Try wearing pencil-pants (slim-fit) teamed with shirts in pretty candy stripes or floral prints with tank tops inside and a nice scarf thrown over. I am sure you would make heads turn. Get yourself a new haircut too.
---
sammer: hi ashley, plz answer this plz plz plz...i am not fair enuff, height 6, avg body, plz suggest me good and decent clothings..thanks in advance..plz answer

Ashley Rebello: Hey sammer, I would die to have the height you do, but having an average body is not a disadvantage. Carrying one's self with panache and style is of utmost importance with somebody of your stature. Solid coloured trousers (flat-front) with no crease in the linen, and linen shirts in lighter colours, would look great on you. It would give you the junior AB look.
---
simi: hi ashi ! 23/f/blr,i believe in body showing clothes , so pls suggest something for winter.

Ashley Rebello: Hey Simi, showing off your body and wearing skimpier clothes could get you serious pneumonia. Your necklines could plunge and your hemlines could be short, but make sure you team them up with thermals inside. I know you don't get them in wide necks, so just cut them to suit your outfits or carry a shawl which you can discard once you reach your destination.
---
FashionVictim:  I read somewhere that you are a close friend to Sonali Bendre, are you still in touch with her? And who according to you is the most well dressed male and female from Bollywood, please dont say its Mr Bacchan.

Ashley Rebello: Hey fashion victim, Sonali's still a very good friend of mine. She's just had a baby and enjoying her motherhood. As far as the best dressed in the industry, I would say Mallika Sherawat... ha ha ha. Just kidding! It would definitely have to be Preity Zinta because she has an attitude to go with the style. Among guys, I like the way Saif carries his clothes. He is always well-turned out and dresses for the occasion.
---
Part I: What to wear on a date
More on Ashley: Dressing up the movies
DON'T MISS!