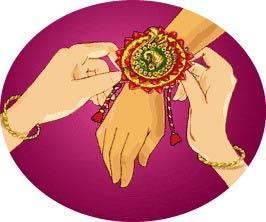 He's allowed to party into the wee hours, you have to stick to a midnight curfew.

She gets to choose her room first, you have to make do with second-best.
No doubt, sibling rivalry is inevitable in any brother-sister relationship. In a few days, though, it will be that time of the year when you set aside your differences and celebrate the good things.
Like when he supported you in the face of opposition from mom and dad. When she whipped made your favourite meal, because you were feeling blue.
This Raksha Bandhan, Get Ahead gives you a chance to say that thank you speech you've been too busy make all year.
Shop for rakhi gifts on rediff.com.
Download rakhi ringtones.