Natural calamities often leave a long-lasting impact on children. They are likely to feel mentally and emotionally disturbed as they witness the loss of their near and dear ones and see their family suffer financial losses.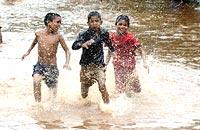 "The initial responses of a child to a disaster such as a flood include fear, disbelief and a reluctance to abandon property. Inability to reach their parents and being stranded on the way stresses them out deeply," says psychiatrist Dr Mansi Sharma.
"If the child is completely unaware about the existence of such a natural calamity, then his/ her emotional outburst may be more intense. Parents must keep their children well-informed about the existence of such situations and the ways of dealing with them," she adds.
During such calamities, your child may display the following behaviour patterns:
~ On witnessing anxiety in their parents' or guardians' behaviour, they will experience fear.
They can get very shaken as they see an adult's best efforts at preventing a loss fail.
~ They may be horrified at seeing severely injured people or dead bodies.
~ If they are stranded alone, they may feel lost, have hunger pangs and start crying in despair, not knowing what to do.
~ They may lose pets, cherished memorabilia and toys during the calamity. During the clean-up process, they may not understand why parents must dispose off these belongings, if contaminated.
Equip your children for emergencies
In such dire circumstances, you may be stuck somewhere. It becomes important that your child be capable of fending for him/ herself. The following measures can ensure his/ her safety and emotional state of mind:
i. Make sure they memorise your full name, address and landline/ mobile numbers.
Teach them how to call you from a local phone booth on their own.
ii. They must know the route from their school to home. Get them to remember landmarks along the way.
Teach them what they should tell the bus/ auto rickshaw/ cab driver if hitching a ride back on their own.
iii. Keep some 'emergency' money in their bags, and tell them it should be used only in case of, well, emergencies.
iv. Keep a key to the house in their bag and train them to open and lock the house properly. Or make sure your neighbour has the key to your home.
v. If their school is far from home, they should be made familiar with a family or friend's home that is closer to school and where they could stay if required.
vi. Keep your visiting cards in their school bags so that others can reach you even if your child forgets your details.
vii. Hunger can stress children uncontrollably and can weaken them emotionally.
Keeping some food items like a packet of biscuits, a juice pack, some candies/ chocolates, etc, apart from their regular lunch box is a good idea.
If they are stranded, at least they will not be troubled by hunger pangs.
viii. Keep them informed about the existence of natural calamities and the havoc they can cause. Prepare them by giving them the facts; do not scare them.
Post calamity stress/ disorders
Once the situation gets better, post-calamity stress can come into play.
"Besides coping with physical, financial and emotional losses, dealing with the process of cleaning up the house, epidemics, etc, can be traumatic for children, leading to post traumatic stress disorder," says Dr Sharma. A child suffering from post-traumatic stress disorder could experience the following emotions:
~ Feelings of insecurity, fear, anger, sadness, despair and worries about the future.
~ Children display disruptive behaviour, irritability, temper tantrums, agitation or hyperactivity.
~ They become 'clingy' and develop phobias.
~ They display increased concern with regard to the safety of family members, friends and loved ones
~ Somatic symptoms, such as stomach aches, headaches, loss of appetite, nightmares, lack of concentration or sleep are common.
~ Due to frequent reminders of the calamity, he/ she may relive and re-experience all the emotions, fears and perceptions that he/ she experienced at the time of the calamity.
For instance, in the case of floods, reminders include flood warnings, the sudden onset of dark clouds, lightening, thunder and rain. These lead to fear of a recurrence of a flood.
~ Adolescents may respond differently than younger children. They may have feelings of a foreshortened future and may exhibit the following behaviour.
They could become socially withdrawn, angry or irritable.
They could take on more risks in their eagerness to live life to the fullest.
They could become rebellious and be constantly in conflict with authority. For instance, they may start smoking to feel liberated from stress.
Coping with post-traumatic stress disorder
Psychotherapy backed by family support can help cure this disorder. In some instances, medicines (sedatives, etc) may be used. Telling a child not to watch reports on television or cutting out gruesome pictures from the newspapers will not help. This will only increase their curiosity or cut them off from reality.
"To cope with your child's post-traumatic stress, encourage him/ her to talk about and draw pictures of the disaster. This will help you understand how they feel. Reviewing safety procedures can help a child feel more in control. If your child is getting nightmares, let him/ her sleep with you for a few days. Spending extra time with your child and making him/ her feel taken care of can help tremendously," says clinical psychologist Kiran Thacker, who specialises in dealing with children.
Children have their own ways perceiving and dealing with situations. As parents, it is important for you to enter their world and to get rid of wrong perceptions, to ensure an upbringing without any emotional scars. However, if these stress symptoms in your children persist for an extended period of time, you should seek professional help.
Be sensitive. Be patient. Be concerned. That's all the situation demands.