xford or Cambridge?
That's the question many students debate over when they think of going abroad.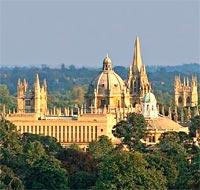 According to The Guardian's annual guide, Oxford has replaced Cambridge as the UK's best university.
London-based institutions such as the School of Oriental and African Studies, the London School of Economics and Imperial College rank close behind.
The guide has thrown up many other interesting facts that will help undergraduate students.
For instance, many lesser known institutes offer high quality courses to students prepared to shop around.

Findings of the guide
~ Oxford narrowly overtook Cambridge at the top of the overall league table.
~ The top 20 places are dominated by the elite Russell Group institutions.
~ The University of Central England is listed as the highest-ranking former polytechnic.
~ Other success stories:
What the guide includes for the first time ever

The Guide a complete list of every institution. It also includes:

~ A comprehensive list of fees.
~ Bursaries.
~ Scholarships.
~ Teaching, student-staff ratio and job prospects.
~ Average entry qualifications required.
~ Spend per student.
~ Value-added improvement each university gives students.
~ The university's record for attracting candidates from under-represented groups.
Additional information

The guide lists the top 20 universities in each subject area.

Oxford and Cambridge figure prominently.

Most institutions have already unveiled plans to charge the maximum £3,000 (approximately Rs 2,46,000) when tuition fees are introduced in 2006.
However, the guide shows there are differences in the bursaries and scholarships on offer.
Lesser-known universities

Will Woodward, editor of Education Guardian, said, "Oxbridge and the London colleges dominate our overall top 10. But our tables show you can shop around to find top-quality departments in many less well-known universities, including many former polytechnics.
"The new market in higher education will make demands on universities, as students seek courses that they know will be value for money. League tables will play an increasingly important part in this selection process, " he adds.  
Want more details?
To view full interactive versions of the tables, including extra student data and the option to rank institutions according to different criteria, visit EducationGuardian.co.uk/universityguide2005.