e is the man behind that London landmark -- the 100 metre long Charing Cross metro station mural. He has designed countless postage stamps, including those issued to commemorate the Shakespeare Festival (1964) and the dawn of the new millennium (1999). His illustrated books on countries such as Britain, France and Italy are the global traveller's guide, because they capture the soul and essence of those lands.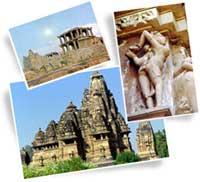 Meet 75-year-old David Gentleman, who finds India "puzzling yet spectacular" and whose book, India, will see an Indian edition more than a decade after it was first published.
Written after a nine-month tryst with India, the book will appeal to people ranging from the connoisseur of art to the ordinary tourist, for whom India begins and ends with the Taj Mahal.
Gentleman considers India his most challenging as well as rewarding work. And he denies it is dated.
"Time has passed, I agree. But I believe the things I have sketched -- be it the breathtaking sculptures of Khajuraho and Konark or the towering gopurams of the Vijayanagara temples in Hampi -- are free from the ravages of time," he says.
The vivid, simple descriptions of these architectural marvels are what set Gentleman's book apart. The author, however, calls them the "mere impressions of an artist".
He thanks the many people he has met in India, especially the taxi drivers and the tourist guides, who have given him minute details of places and their local history.
"Certain aspects of India are shocking to the British as they find the inequalities here spectacularly unfair. But India is not as complicated as the foreigner thinks and I believe life here is definitely worth living at many different levels," he says.
"Drawing in India attracts a lot of good-natured attention, so it's good to have a refuge -- an upper terrace or a cafe table. People are always distracting, but drawing them is a good experience," he says.
"When I come to India after 12 years, I can see that the rich have become richer and swankier cars have replaced the ubiquitous Ambassador on the roads. But I believe the common man, who jostles with fellow commuters in the overcrowded metro rail in Kolkata and the buses in Mumbai, has still not changed," he adds.
So what's next for the artist-writer who has traversed the snow-clad heights of Ladakh to the sprawling beaches of Kerala?
"My book on this colossal nation [India] has been more or less superficial as I have given more focus to the architectural wonders of India than on the people. Next time I do an illustrated piece on India, my focus will be on the oddities and anxieties of the present than the marvels of the past," he says.

DON'T MISS!