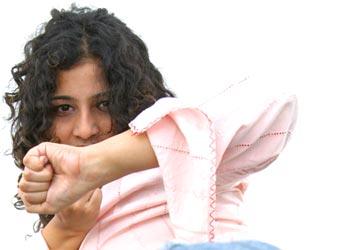 he profession: Radio Jockey, colloquially known as RJ.
What does an RJ do? In simple terms, an RJ guides listeners through a radio programme, entertains them and gives them information.
Malishka, a popular RJ with the erstwhile 94.6 FM channel, and now with Rediff Radio, says all it takes to be a good RJ is your style, your personality and how you communicate with your listeners.
Here's more on the profession from Malishka.
Formal training versus spontaneity
Do you need formal training to become an RJ? No. I think it is a matter of your style, your personality, how you present your programme and how you communicate with your listeners.
If you want to become an RJ, two things are very important -- your communication powers and language skills.
Performance-oriented talent like dancing and acting also come in handy. It helps you develop an outgoing personality.
There are courses out there, but I believe you should take them only if you think you have a confidence problem or want to develop your personality. Else, they are not really necessary. 
I know of some courses that claim you will learn to compere and dub in four to five classes. That's ridiculous. 
In my case, I went for an audition, got selected and that's how my career started.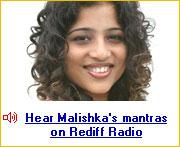 Want to be an RJ? This is your checklist
You must have your own style.
It helps if you can do mimicry or have other performance-oriented talent.
You must enjoy talking to people.
You can't afford to have inhibitions.
You should know how to modulate your voice. Speaking in the same monotone is a surefire way of losing your audience. Modulate your voice well and your fan following will increase and open the way to other assignments. If you can sound different on your show, people will enjoy listening to you.
When in Rome, speak like a jockey!
You need to connect with people. You need not be a linguist; just learn one or two lines from other languages.
Culture and domain status is a very necessary aspect of radio. On a live show, you are talking about the city, the people, the roads, so you need to know the city properly. If possible, you need to be from the city.
Living it up live!
Live shows are fun. You say something and it's on air. A song plays, you react to it as soon as it ends. That comes from your heart.
Recorded shows give you time to prepare. You can speak passionately for about 10 or 15 minutes. You can record quickly.
Live radio is spontaneous. You have pointers -- some poems, some lines you want to say. But writing a full-fledged script is not possible. The jockey creates his/her own content. No one helps, unless the show has a producer. Even then, this help comes in the form of tips or as an indicator of what the producer expects from you.
Scripted to advantage?
If you prepare your own script, you can change whatever you want.
But if someone else prepares the script, you can't change it. The advantage is, you can record it in 15 minutes and run away!
Loud mistakes!
If you make a mistake on air, the best thing to do is admit it to the listener. Else, just cover it up.
The way you cover up gaffes also depends on person to person.
If you are the sober kind, you would admit it in a professional manner. But if you are fun-loving and bubbly, coming clean doesn't harm because, thanks to the relationship you have built with your listeners, they won't mind.
You could also cover up a gaffe by playing a song.
Sometimes, on a live show, callers can get abusive or ask awkward questions. Some radio stations have what is called the Dumb Button, meant to be used in such cases: Press it! There will be four-second delay on your show, but that is okay.
The best way to avoid this is to talk to your caller before you go live. Spare a few minutes to tell him/her what you are going to do; warn him/her to be short and crisp.
What's the industry like?
It's a very young, new medium and therefore keeps changing.
When FM channels began, we didn't know the 'sound' or 'voice' required. A phase of experimentation -- with the jockeys, the programming, the shows, the songs used -- followed. The situation is comparatively better today, but it is still a volatile, fast-growing industry.
This profession also attracts people from other fields.
One of our listeners wanted to become an RJ. We called him over for an audition. He was selected and started helping out. Today, he is a jockey with another radio station.
When I first started, I used to host the 9 pm to 12 pm slot [not considered prime time]. Within six months, though, I got the prime time morning slot.
This is one profession that provides a lot of scope for quick growth. All you need is talent and perseverence. If your show is doing well, you will get more advertisements. Radio stations, like most other media businesses, work on ad revenue! 
Remember, though, that RJing is not a typical 9 to 5 job.
The moolah
Is worth it. The more ads a radio station gets, the more it will pay you.
Your pay also depends on what shows you are hosting. If you are doing the afternoon or late night show, the pay will be less. Morning and evening shows have higher pay scales because you have more listeners tuning in during these slots.
Battling with monotony
It can get monotonous because you have to do the same thing day after day. For example, for the wake up call shows, you have to repeat yourself over and over again.
There is no flexibility, even if you are sick. You have to come in and do your job. It is not like other professions.
After a certain period of time, you might feel the need to look into other fields and learn things that are related to your profession.
Radio or television -- which is better?
Radio! Any day! As an RJ, you are anonymous and can travel anywhere you want. If need be, you can get into a fight with people and come out unscathed.
The next time you are on air, the same person might call in to tell you you are the best!
Besides, people share their lives with you on radio.
Looking into the future
You can move from department to department [on a radio station]. 
As a radio jockey, the best you can do is host the prime time shows -- the ones that are aired during the morning and evening slots.
Alternate professions include becoming a music consultant, going into production and writing scripts. It depends on your skill.
Until you get famous...
You could do voice-overs.
You could dub for ad films and movies. 
You could host or compere live events.
You could even try your hand at hosting a television show (make sure you are telegenic, though!).
Photographs: Jewella C Miranda
DON'T MISS!
Wanna become a television journalist?