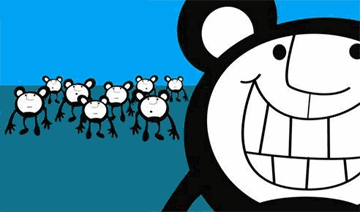 aya Academy of Advanced Cinematics, a division of Maya Entertainment Ltd, is aggressively expanding in south India.
The institute, which has been training students in special effects and animation since 2000, is opting for this aggressive strategy following the keen interest in art among the student community in south India.
MAAC has opened its fourth training centre in Bangalore in the last six months. The institute will open its second centre in Hyderabad in January 2005.
It also plans to open four training centres in Chennai in the next month. The company is spending close to Rs 20 lakh per new training centre being set up in the south.
"The skillset of people in the south is very high. They are more inclined towards art and hence it is easier to transfer this creativity on to paper and the computer. Nearly 150 students are about to graduate from our three centres in Bangalore," said Aruna Kumar, zonal manager-south, MAAC.
Maya Entertainment Ltd is promoted by well-known film personalities Ketan Mehta and Deepa Sahi. The other key investors in the company include Intel Pacific, Intel's strategic investment arm, and Enam Financial Securities Pvt Ltd, a well-known share broking company. Enam holds a majority stake in the company.
Currently, MAAC has 31 training centres across India. By the end of this fiscal, the company plans to have 50 centres across the country.
"Nearly 70 per cent of the students who graduate from our centres across the country are absorbed by us. This accounts for 2,500 people who are absorbed by Maya Entertainment Ltd, which is mainly in graphics and animation," added Aruna.
MAAC also plans to open its centres in Thailand and Dubai in the next financial year. The company is already receiving a large number of queries from its channel partners in these locations; the channel partners are keen on starting similar training centres overseas.
Since its overseas plans are still in the pipeline, Aruna said it is too early to talk about investments earmarked for this phase of expansion.
The Indian animation industry is estimated at $550 million and is expected to touch $15 billion in five years.
DON'T MISS!
How to become an animator
How I made it to The Lord Of The Rings