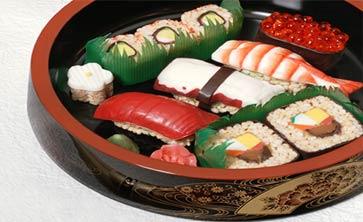 few decades from now they will probably ask a riddle: what started in China, became popular in Japan, was expounded in California and became a hysterically frenzied cult in New Delhi?
The answer, as anyone who has visited the capital in the last month knows, is Sushi.
Sushi: the beginnings
The Chinese character was first found in a dictionary dating back to the 4th century BC, when it was used chiefly as a means of preserving fish.
It travelled to Japan only in the 8th century. And, by the 16th century, it had metamorphosed into the form we know today. Each Japanese city has its own version, but it is Edo (the old name for Tokyo) Sushi that is most common.
You can't hide a gem of an idea from the world. And just as Tandoori Chicken, pizza and the sandwich have transcended barriers, sushi is now found everywhere -- from bastions of gastronomy to strictly working class dives.
There is little doubt that it was California where sushi came into its own, from being just one more item on a Japanese menu.
Why is it so popular? Probably because of the apparent simplicity but underlying complexity of each choice morsel presented in an artistic manner.
Sushi: the types
Though purists would frown, sushi inherently has the ability to spring nouvelle surprises, like olives enclosed in vinegared rice and wrapped not with a nori sheet but with Parma ham.
Sushi can be divided into many types, but all have the same rules: attractive appearance, bite-sized morsels, prime ingredients, Japanese rice (whether actually cultivated in Japan or not), the use of either dashi stock, or sake or rice wine vinegar with seasonings to flavour the rice, the fanatical care taken of the rice at the cooking and rolling stage, and the extra flavourings.
Maki Mono is the relatively easy-to-roll sushi, with a filling of seafood or vegetables in rice, wrapped in a sheet of nori.
But matters don't end there.
Hoso Maki are thinnish country cousins with a single filling, seldom using uncooked seafood, while the far thicker Futomaki is the exact opposite, having five fillings ranging from sweet to salty.
Both these are wrapped with nori, but when the seaweed is inside the roll and rice is outside, it is an inside-out maki or uramaki.
There is also Te-Maki, conceived in California and enjoyed around the world (except by purists in Japan who claim they have never heard of it).
It is shaped like an ice cream cone and can be filled with a couple of vegetables, a couple of types of (usually cooked) seafood and roe.
Then there is Chirashi or scattered sushi that is not moulded at all, and Hako Sushi that is pressed in a box, besides Mushi Sushi or steamed sushi, Gunkan Sushi that is shaped like a battleship, Bo Sushi that has two slices of fish on either side of rice, Hako Sushi shaped like a cake with seafood outside and rice inside, and the most famous of all, Nigiri.
Just as it takes decades to compose an apparent simple haiku, sushi chefs go on for decades -- following the rules or inventing a few new ones.
Powered by