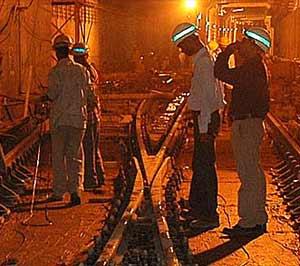 he number of engineering graduates in India annually: 350,000.
The quality of engineers being produced in the country? Questionable.
This lacuna, in fact, stems not only from the lack of trained faculty, but also the dismal spending on research and development in higher education in India.
Engineering colleges in the country have been growing at 20 percent a year, while business schools have grown at 60 per cent annually.
Compared to India, the United States produces 70,000 engineering graduates. Europe produces 100,000 engineering graduates.
India also produces 60,000 MBAs every year.
Though the growth of graduate technical education has been stagnant since 1990 -- 5,300 in 2000 against 5,000 in 1990 -- undergraduate engineering and MBAs have each grown more than tenfold, according to a study conducted by
Naushad Forbes, director, Forbes Marshall.
Here is more data:
1. Five states -- Tamil Nadu, Andhra Pradesh, Maharashtra and Kerala -- account for 31 percent of India's population, but 69 percent of India's engineers.
2. Uttar Pradesh, Bihar, Gujarat, Rajasthan and Orissa account for 43 percent of India's population, but 14 percent of its engineers.
Yes, the Indian government has been responsive to quality concerns and has established various bodies like the National Assessment and Accreditation Council, All India Council for Technical Education, Distance Education Council and the National Council of Teacher Education. But the controls apply primarily to government institutions, with private institutions on the periphery of their purview.
For instance, NAAC has accredited 2,088 colleges and 113 universities in the 10 years since it was established.
But a study by the Federation of Indian Chambers of Commerce and Industry points out that this does not really ensure quality in a dynamic and comprehensive manner, what with 306 universities and over 15,000 colleges spread across India.
Despite the huge numbers, higher education accounts for under three percent of the national research and development spend, compared to 15 to 30 percent in every other major economy, including Taiwan and Brazil.
China's R&D spend, for example, is a good 10 percent, says the Forbes study.
Powered by
Image: Uttam Ghosh