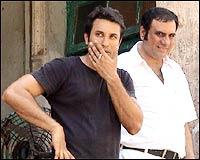 I joined the crew of Being Cyrus as a director's assistant quite early. It was still titled Maasko then (Parsi slang for 'let it slide' or 'keep it under wraps.')  During the shoot, the film was known as Akoori, which means scrambled eggs.
My job had one exception -- in case of any absences on set, the assistant would fill in. Hence, I was continuity supervisor one week, and clapper girl the next.
I was immediately taken with the idea of working on an intelligent English film, jointly written by Homi Adajania and Kersi Khambatta.
Ambika Hinduja, Dinesh Vijan, Raman Macker and Munnish Puri produced the film under the Times Infotainment Media Limited banner.
| | |
| --- | --- |
| | More on rediff.com! |
| | |
This is an exceptionally brave film to make for first-time producers and director. One of the pleasures of watching films is seeing new things on the screen and in this respect, Being Cyrus won't disappoint. This film goes to some very dark places and yet it's an enjoyable ride with plenty of acerbic wit thrown in.

The Sethna family, around which the film revolves, is a dysfunctional Parsi family. How the protagonist Cyrus comes into their lives and the Machiavellian twists and turns that happen afterwards are the basis of the story. The film has finely etched, not generic, characters -- a rarity in our cinema. I believe that's why we all chose to work on this film.

Being Cyrus is a throwback to the era of Billy Wilder (Some Like It Hot, 1959, The Apartment, 1960) before the onset of the digital mayhem that characterises present-day films. The thrills in this film come from watching people outsmart each other.

After having worked with debutant director Homi Adajania, I can say he has tremendous acumen, vision, imagination, and insight. He paid great attention to the detailing of the film, everything from which bag Cyrus would carry to the smallest prop on the set.

He asked me to research the police force so we knew exactly what kind of policeman we could portray in our story. He approved of all the locations personally. We went over all the shot breakdowns together before he went anywhere near a set -- he knew from the scripting stage how he wanted to shoot this film.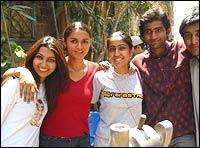 We began our creative process with a table reading of the film. We had a great ensemble cast including Naseeruddin Shah, Dimple Kapadia, Saif Ali Khan, Boman Irani, Simone Singh, Manoj Pahwa and Honey Chhaya. All of us assembled around a table, and they read their respective lines from their scripts. There were some outbursts of laughter, especially whenever Boman said his lines. I knew this was the start of something unusual then. I couldn't stop smiling.
This is a film where the shoot was well considered. Mountains of paperwork were generated and everything was meticulously planned. A few crucial scenes were storyboarded. We gave out call sheets and shot breakdowns every day to the entire crew, telling them what was required for the next day so every department was always prepared.
I think they were all impressed by how professionally the production was mounted, by first-timers.
The crackle of the walkie-talkies began in the morning and went on till the end of the day. The first AD passing instructions to the second and third AD, then echoing to everyone else and so on it went. "Rolling. Lock it up." "Final Checks." "Going for take." "Silence." "SILENCE!"
We required pin-drop silence for the sync-sound and there were the occasional glitches.
An unfortunate extra once disturbed a very good shot when his cell phone rang and was promptly taken to a corner and scolded.
Then we had a trying time when a birthday party was going on full swing next door -- and they refused to turn down the music, shoot or no shoot.
But in the end, we managed to shoot a sync sound film in Mumbai! It can be done, just be prepared to use all your manpower and strong words when people refuse to be quiet.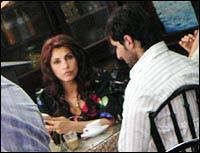 On an evening a few days later, a battalion of bats flew in to one of the rooms we were watching the monitor in. Needless to say, the room emptied very fast, but the shoot continued. Only those brave enough to watch with bats hovering around their head stayed.
One of the memorable episodes from the making of the film was when our first AD, Kapil Sharma, filled in for a female actor, speaking to Boman Irani on the other end of a telephone conversation, to give him his cues. To his credit, Boman kept a straight face. The rest of us, however, did not. All of us were rolling with laughter in between takes -- especially when Kapil put on the perfect high-pitch female voice.
All the actors were good humoured and sweet. Manoj Pahwa took time out from his television shows to come for rehearsals. Honey Chhaya, who plays Old Man Sethna, is amazingly enthusiastic even at this advanced age. Simone Singh worked on this film pre-Cosmic Chat days, but she did tell me a few things about zodiac signs.
Boman Irani is extremely down-to-earth, very friendly with the crew, and a delight to watch. Nobody else but him could have played the part of Farrokh with such panache.
I found Saif to be gracious and kind. The first thing I said to him was how much I disliked his debut film, Parampara (I was 10 when it came out) and then immediately realised what I had said (I always speak before thinking. That is why I am a writer!) I subsequently apologised. He replied that there was no need to and he appreciated my honesty.
Of course, I loved him in Dil Chahta Hai and Kal Ho Naa Ho and inundated him with questions about these films.
There were times during the shoot when, watching him, I would contemplate how phenomenal an actor he is, and how people will be pleased to see him capture the complexities of Cyrus, in his first English film. His moments of silence are worth watching.
Dimple is a mercurial woman, with fleeting expressions that are fascinating to observe. She is still incredibly gorgeous and charming. Young men can't help but fall in love with this lady.
Our director of photography, Jehangir Chowdhury, did a fine job with the cinematography. The final product looks fantastic. He also delighted us with his never-ending puns. Between him and Homi, there was a lot of laughter in between shots.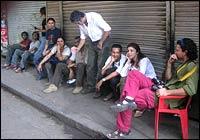 After a film is successful, the credit is given to the actors, the director and the producers. It is a pity, because truthfully, a film is as good as its crew and they deserve to be recognised.
The shoot of Being Cyrus wouldn't have gone half as smoothly without the hardwork put in by our line producer Harish Amin, location manager Nitin Chandrachud and first AD Kapil Sharma. Not to mention the quiet efficiency demonstrated by our production designer Aparna Raina, Anisha Gulati, & Navin Kenkre; sound assistant Sonali Singh, grips Sanjay Sami and the Bhurji brothers and the gaffer department led by Moolchand and Masqood. The second and third AD Danish Aslam and Jigyasa Taneja could be trusted with the most difficult tasks. Arun and Osh, our make-up and hair stylists respectively, showed enormous patience.
Anaita Adajania should be admired simply for this reason: It was her husband's film shoot, but she never threw her weight around. She's a true professional.
Our sound designer Andrew Belletty is new to India but a veteran in sound work. Everyone adored him because he played his iPod on the speakers in between takes and took requests. Homi and Saif spontaneously did a few retro dance steps to The Shoop Shoop Song by Cher.
Hassan Kutty was our continuity supervisor and for the industry, he is a part of film lore. The man has a fine eye. I realised this when I had to substitute for him one day, while he was otherwise indisposed. We were all relieved when Hassan came back the next day.
I wasn't proficient at giving the clap either. My camera assistant friend Kirti Chopra took ill for two days and I was her substitute. For my first shot, I actually froze for a minute -- you would think I was an actress about to recite my first dialogue.
Then I began to give the clap too quickly. There are some rushes of me running back into the frame to give the clap a second time. I've heard there were quite a few smiles in the editing room when that footage came on.
My most important duty was to be chocolate girl. I brought chocolates to the sets almost all 30-odd days of shooting. The one day we suddenly needed chocolates on the set was the only day I didn't bring any. Hassan Kutty saved the day with éclairs!
The film ended with two consecutive night shoots in a building and all of us were sad to see the shoot end. We hung around till the very end. We wrapped up around 5 am on a pleasant March morning and gave each other exuberant bear hugs and a round of applause. I gave Homi a wrap-up present and walked away misty-eyed.
Some last trivia on the film? Watch out for an unusual use of 1,000 egg yolks in a giant tub.