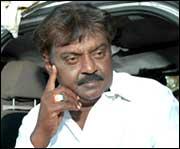 When film actor
Vijayakanth
started the Desiya Murpokku Dravida Kazhagam party, nobody gave him a chance. His DMDK party entered the election fray all alone when the two major parties -- the DMK and the AIADMK -- are contesting the polls in the company of many other smaller parties. He also fielded candidates in all 234 constituencies in Tamil Nadu.
Initially, he was was ridiculed by many. Soon, much to the surprise of all the poll watchers, people thronged to his meetings in large numbers. Rural Tamil Nadu, especially the rural youth, find his manifesto appealing, and seem to believe that he will be able to keep his promises.
Though earlier opinion polls did not give him many votes, he is now expected to get 10 to 15 per cent of votes, and could be the deciding factor in the May 8 election.
Shobha Warrier caught up with him on a hot May morning near Vridhachalam.
Why did you decide to choose Vridhachalam as your constituency which many say is not very safe for you?
I chose Vridhachalam because I have a lot of fans here. Then, this is a village, and I love villages. I have come here several times earlier, and I have noticed that it is very remote, and it will be a challenge to develop such a place.
Some leaders choose Chennai (Karunanidhi) and some the southern end of Tamil Nadu (Jayalalithaa). Kalaignar (Karunanidhi) was born in Thiruvaroor. Why is he standing from Chennai? From Chennai, Jayalalithaa has gone to Aandipatti. (The late Congress doyen K Kamaraj) who was born in Virudhunagar went to Nagercoil to contest the elections. I decided to contest from the centre of the state.
Is it necessary that we should choose only safe seats? What is needed is to serve the people, which you can do from any place. I also felt that as the leader of a party, I should not look for a safe constituency. Instead I should contest from a place which is the toughest. When a leader of a party contests from a rural place, it will help the development of the village immensely.
Now that you have been campaigning here as a candidate, what do you think this village lacks, and what are your plans for this village?
I have noticed that this place does not have drinking water. There are no good roads here. No medical facilities too. I want to first provide them these three major things. And I will fulfil my promise. Even if I am only an MLA, I will ensure the development of this remote village. I will not leave the place unless I solve these three major concerns.
Many describe your decision to go alone as courageous. Why did you decide to do that?
Yes, it is a courageous decision. Unless you stand alone, how will people know what you are capable of?
Why are you offering so many freebies?
Kalaignar today says he will give subsidised kerosene. Jayalalithaa says she will give 4 grams of gold to all brides. I have promised all this in the beginning itself. I have promised to give Rs 10,000 when a girl child is born in a family. With that Rs 10,000 itself, you can buy gold but I said I would deposit that amount in the bank for the child. By the time she is ready for marriage, it will become Rs 2 lakhs with which you can buy gold and also conduct her wedding.
When I said I would give cows, many scoffed at me. But you know why I promised to give a cow to a family that is below the poverty line? It will help a family in a village because it gives milk. I did not make any stupid promises. I promised only what is needed for the rural poor.
The Sun may set forever in Thanjavur
Now, the other two parties are offering more and more freebies, one after the other, every day. Why were they not giving all this when they were in power? If they are offering all this, it means it is possible to give these things. Why did they cheat the people all these years?
You should understand that I have promised certain things in the beginning and I am sticking to it unlike these two parties who are vying with each other every day. Are they not trying to cheat people?
You worked in films for so many years and made money. Why do you spend your hard earned money in politics?
Even when I was young, I had this inclination to help people. It has continued. The path I have chosen is a path to do service.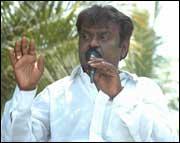 It is not that I will do it only after I join politics. I have been doing social service all these years.
I felt politics will give me more opportunity to help people, and it is difficult to help all as an individual. If I could do so many things as an individual, as a political leader, will I not be able to do more?
All the opinion polls say you will decide who will come to power in Tamil Nadu in the sense, the results depend on which party's votes you will be taking away. What do you say about this?I don't think of all those things. I don't even know what the opinion polls say. I don't want to.
When you first said you were standing alone, nobody gave you any chance or importance. Now that the D-day is fast approaching, poll pundits say you will be a strong force…
You are right. Nobody wrote good things about me. Nobody said good things about me. I would say they saw the pulse of the people only now while I saw it much earlier. I understood the minds of the people, that's why I decided to face the electorate all alone. Both the parties are doing wrong things. But instead of talking about what they have not done, I am telling people what I will do for them.
What kind of results do you expect in this election for your party?
I have fielded candidates in 234 constituencies. As a leader, I should say we will win in all the 234 seats. If there is 65 per cent polling, we will get 67 seats. If the poll percentage is more than 75 to 80 per cent, then we will get the state like it happened to NTR (the late Andhra Pradesh leader and movie superstar N T Rama Rao). Many are talking about a hung assembly but I feel miracles can also happen.
Vijayakanth has to wait patiently
If it is a hung assembly, will you join any alliance?
I have not even thought about that now.
You are testing the electoral waters for the first time. If you don't get the expected results, will you go away, or, will you continue in politics?
I will continue in politics. I did not come here to run away. I have seen victory and failure several times when I was in the movies. So, I am not scared of losses at all.
When I travelled to rural Tamil Nadu, I found that the youth are very attracted to you because you are promising education and employment opportunities.
Who made them uneducated? Who is responsible if they are not educated and they have no jobs? Both the DMK and the AIADMK. You can describe people as educated. Why do we have uneducated?
Kalaignar was the chief minister four times. Jayalalithaa was the CM twice. Why didn't they do something for the youth? Why didn't they take care of them?
The expectations of rural youth are really high. They say you will do this, that… Are you not scared?
I am not scared. Why should I be scared?
We can fulfil their dreams. It is not impossible. It is possible. I have the confidence in me that I can do more than what I have promised. The others have been looting the people all these years. If you don't do that, you can do a lot for the people. I will not loot. I will only serve the people.
Is it not difficult to be so pure in politics? You may be honest and good at heart but you will have MLAs and people to work for you. If they are corrupt, what can you do?
I don't agree with you. Today, party members will listen to what the leader says. Why am I canvassing in all the 234 constituencies? Because I want to tell the people that I am responsible.
Dindigul: Are elections really on?
You are being compared to MGR…
MGR is not anybody's property. People compare me to MGR. I had told my people not to compare me with MGR because he was in the other party. But they refused to listen to me. The irony is now that we have the picture of MGR in our posters, the AIADMK also has him in their posters. Till now, you had only Jayalalithaa's photo in their posters.
Because we have Kamaraj's photo in our posters, the Congress suddenly remembered him. Till now the Congress had only pictures of Indira Gandhi and Sonia Gandhi. Now, suddenly they have discovered Kamaraj.
Caste plays a major role in Tamil Nadu elections. Did you look at the caste of the person while choosing a candidate?
I didn't write my caste and religion in the form. Our party does not believe in caste or religion.
Photographs: Sreeram Selvaraj