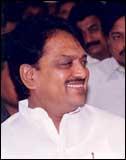 In a surprising turn of events, Vilasrao Deshmukh was elected leader of the Congress Legislature Party in Maharashtra on Friday, clearing the way for his return as chief minister after nearly two years.
Deshmukh, 59, will replace caretaker Chief Minister Sushilkumar Shinde, a strong contender for the post.
Shinde, the most prominent Dalit face in the Congress in Maharashtra, replaced Deshumukh in January 2003 when the state party unit was hit by factionalism.
At the CLP meet held at Vidhan Bhavan, the assembly complex in south Mumbai, under the supervision of central Congress leaders Ghulam Nabi Azad, Ashok Gehlot and Margaret Alva, Shinde proposed Deshmukh; this was seconded by senior state Congress leaders Govindrao Adik, Patangrao Kadam and Surupsingh Naik.
Before the CLP meeting, the observers met each newly-elected party legislator, along with party MLCs (Member of the Legislative Council) and nine Independent legislators supporting the Congress, and ascertained their opinion on who should lead the state.
Although Shinde was tipped to be chief minister after the Congress persuaded its ally the Nationalist Congress Party not to press for the post, a sizeable number of legislators appeared to have expressed solidarity with Deshmukh at Friday's meeting.
Deshmukh first became chief minister after the 1999 assembly election.
The deputy chief minister's post will also be occupied by a Maratha, the NCP's R R Patil.
Deshmukh was elected from the Latur assembly seat in Latur district in the Marathwada region while Patil was elected from Tasgaon in Sangli district in western Maharashtra.
Photograph: Jewella C Miranda
Also Read:
Wheel has taken full circle for Vilasrao Deshmukh