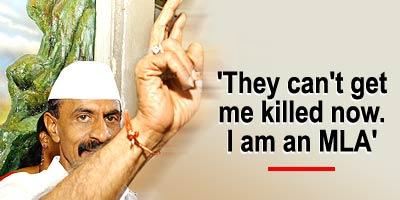 Life has come a full circle for Arun Gawli.
The former gangster, who served more than five years in jail on more than half a dozen charges of masterminding murders, extortions and assaults, on Saturday earned the right to sit in the Maharashtra legislative assembly.
Gawli, who contested as a candidate of his Akhil Bharatiya Sena party, defeated the Congress' Madhu Chavan by 12,674 votes in Mumbai's Chinchpokli constituency.
He spoke to Contributing Correspondent Rujuta Paradkar about his future plans. Excerpts:
It is your first day and you are mistreating the media by making everyone wait for several hours?
I will make a system whereby the media will be given a timeslot and attended to. Today, I had to first attend the people who voted for me and mainly my kariyakartaas.
Which alliance do you plan to join?
The results have been declared just today, and we are rejoicing. We will see about the alliance later.
You are in good terms with both the NCP and Shiv Sena. As an independent candidate who will you join hands with?
We have a body of 11 independent candidates. I will consult with them first and then take a decision. But my decision will be in favour of the people.
What about the criminal accusations made against you?
My opponents should not connect me to criminal activities. If the court has given its verdict then why should they accuse me? It's not correct. If I were a criminal, why would people vote for me?
Also Read: Chhota Bhai seeks your vote
I have done a lot of work. In the medical sector, when I established the party, I gave around 4,000 bottles of blood to KEM Hospital. I have done work in cultural and educational sector as well.
What will be your first step?
A lot of people will come to me with their problems. My first step will be to look after the people who have voted me and solve their problems.
To win is very easy but to maintain your seat, to keep your success requires time and effort. It requires people's blessing as well.
What are the other issues you will focus on?
The unemployed should be provided with job opportunities. Uneducated and unemployed people take to drinking, gambling and illegal activities. This should be controlled. My party will focus on bringing people of all walks together and in creating national equality.
But do you have enough experience as a politician?
If you sit and think that you will go to Delhi, you will never reach. You need to actually set out for the journey. I have set out for a journey. Plus I will meet supporters and get guidance on my way.
You have always feared being killed in an encounter. Has this fear subsided now?
The gangs and politicians who wanted to take out my supaari can't do so anymore. They will not offer my supaari to the police anymore. I am protected as a politician. I am an MLA now!
So will you be able to roam freely? What protection have you demanded?
Yes, I will have to do so now, it is my duty. And it is the government's duty to provide me protection. I want escort protection, a jeep that is given to an MLA.
You believe in god and pray everyday. Has your faith finally paid off?
Yes, in fact I was praying when I heard the news. I was thrilled to know about my victory. All the work I have done for my people has paid off. The navratri season has been indeed auspicious for me. The devi has answered my prayers. Bhagwan ke ghar pe der hai, andher nahi!
What's the difference between Arun Gawli of yesteryears and the Arun gawli the MLA?
There is no difference. I am the same Arun Gawli (laughs).
Photograph: Sebastian D'Souza/AFP/Getty Images | Headline image : Uday Kuckian