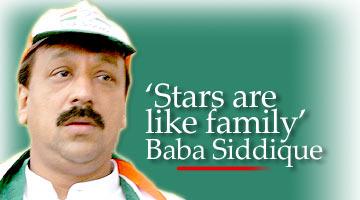 After serving as a municipal corporator twice, Baba Siddique was elected to the Maharashtra assembly from Bandra in northwest Mumbai in 1999. The Congress candidate has been a resident of Bandra for the past 41 years.
He is a supporter of Union Sports Minister Sunil Dutt who represent Mumbai Northwest in Parliament.
Due to the cosmopolitan nature of the constituency, the Shiv Sena-Bharatiya Janata Party alliance was unable to come up with a suitable candidate until fashion designer Shaina NC, a resident of Malabar Hill in south Mumbai, joined the BJP and agreed to contest from Bandra.
Rujuta Paradkar spent some time with Baba Siddique on the campaign trail.
What are the main issues?
Drainage problems, hawkers, bad roads.
Who are your staunch supporters?
I am expecting votes from all sections: the haves, the have-nots and the middle class. Bandra is my home. I am a galli ka chokra, everyone knows me and will vote for me.
Then why are the gallis (lanes) in Bandra still bad?
You were not here five years back. There has been drastic change since then. Rome was not build in a day.
What have you done for the 'have-nots'?
The have-nots don't have water to drink. It's unfortunate. They do not have proper facilities to defecate. I have ensured 800 water connections, which supply water to 8,000 houses, and provided 800 toilet blocks for them. I have set up Balwadis (child care centres), small sheds for them to study, small gyms and volleyball courts.
What about the middle-class and affluent segments?
For the haves, I came up with flowerbeds. I have provided 600-plus flowerbeds to Pali Hill residents to increase the green cover in Bandra. Plus, it stops encroachment. Approximately 112 roads have been involved in this scheme. More are in the pipeline.
Three subways have got approval in principle.
What about education?
Education is very important for character development. Municipal schools are closing all over Mumbai but our school in Bandra is growing. 
How would you describe your relationship with Sunil Dutt?
Duttsaab is my mentor, guide and friend. When I sit with him, it feels like he is of my age. I inform him about the issues in the city and discuss solutions. He has been associated with a lot of social causes.
When the earthquake struck Gujarat in 2001, he was unwell. Even then, on the second day, we flew there on an Indian Air Force plane with four trucks of relief material. We took the Nargis Dutt Mobile Hospital and camped there for 7 days.
We helped rehabilitate some children orphaned during the riots in Gujarat. We took Sadbhavna Yatras at among other places Hazratbal in Kashmir, the Golden Temple, Vaishnodevi, to spread the message of peace.
You are one of the richest candidates in the state.
I have been paying tax for umpteen years. I have declared everything. My family was into business but I am a self-made man. What more can I say.
What business are you into?
I have declared everything in my affidavit. I have nothing more to say.
What do you have to say about Shaina NC?
I don't criticise anybody. I am a sportsperson; I fight my battle on the ground and never get personal. I wish her good luck.
You seem to be getting a lot of support from the film industry.
I know a lot of great people, including Shah Rukh (Khan), Dino (Morea), Salman (Khan), Aditya (Panscholi), Chunky (Pandey). I don't think of them as stars, to me they are like family.
Photograph: Jewella C Miranda | Image: Rahil Shaikh