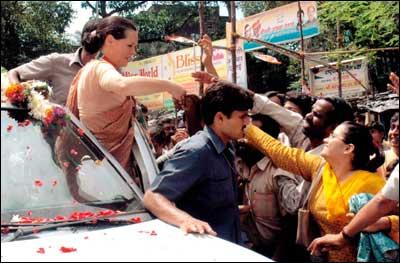 All India Congress Committee president Sonia Gandhi on Monday set out on a road show to woo the electorate in Mumbai. In the picture, she is seen interacting with people in Mulund, in northeast Mumbai.
She entered the metropolis at Mulund, went all the way to Churchgate in south Mumbai and then turned back, making her way to Kalanagar (in Bandra) via Prabhadevi, on to Dharavi and then to the Santa Cruz airport.
Her message to Mumbaikars: Come out and vote on October 13
Monday is the last day of campaigning for the Maharashtra assembly polls, which will take place on Wednesday October 13.
Photo: Gajanan Ghuriye, courtesy MPCC