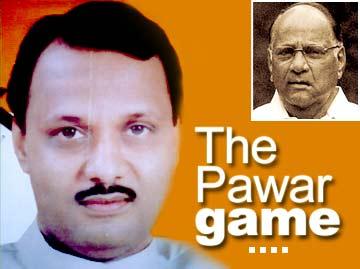 As I entered the bungalow named Tarangan near Sangam Bridge in Vijaynagar, Baramati, I saw a bunch of people standing outside.
In the living room I did a quick headcount and saw that there were 14 Shiv Sena and Bharatiya Janata Party workers. They were all waiting for Popatrao Mansingrao Tupe, a former confidant of the Pawars who has dared to do the unthinkable: take on Ajit Pawar – Nationalist Congress Party chief and Union Agriculture Minister Sharad Pawar's nephew and irrigation minister in the Sushilkumar Shinde Cabinet – on a Sena ticket.
AN HOUR earlier I was at the Sena-BJP campaign office hardly 500 metres away. Surendra Jawre, a Sena worker, told me: "Wherever he goes, he gets a very good response. For two years there was a drought and farmers were reduced to begging for water. Tupesaheb raised his voice against this and the Pawars did not like that."
Forty-eight tankers – the most in any taluka in Maharashtra – used to come here to deliver water. People did not even have drinking water, he said, adding that Ajit Pawar did not do anything about it even though he was irrigation minister.
There was water in the reservoirs nearby, but he did nothing to get it released, Jawre claimed. Harshvardhan Patil, an independent who was also a member of Shinde's Cabinet, used his clout to take all that water to his Indapur constituency.
I was puzzled. "If there were 48 tankers coming to deliver water," I said, "doesn't it show that Ajit Pawar actually works for the people? He does not have any control over the rains, right? So the next best thing he can do is get as many tankers as possible to his constituency."
"No," Jawre insisted, "Ajit Pawar did nothing."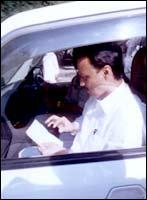 The Pawars, as everyone knows, have ruled over Baramati for years and years and carried out, according to many, a lot of developmental projects. It seemed inconceivable that there was all that water and Ajit Pawar did nothing.
But Jawre would have none of it. "Only some people have prospered under the Pawars, and that includes the Pawars."
"The Pawars built schools and colleges here," agreed Sunil Shinde, who contested against Pawar, Jr, on a Sena ticket in 1995 and lost by around 70,000 votes. "But those schools and colleges hardly have any local representation; most of the students are from outside. They gain admission by paying capitation fees.
"Also, if you look at Ajit Pawar... he can hardly do anything. Take away Sharad Pawar and he is a big zero!"
THIS THEME – "he is a big zero without Sharad Pawar" – is something I have heard many Baramati residents put forward. And, to an extent, that is true. In fact, the most ridiculous question one can ask here of the people is whether Tupe can pull it off. "Jab tak Sharad Pawarsaheb kaa haath unke bhateeje ke sir pe hai, tab tak unko koi problem nahin," is is what more than a couple of people told me.
I then modified my question a bit. I asked if Tupe would be able to make a dent. Some agreed. "Ajit Pawar will win, but the margin will be less this time," said Tanaji Bhosle, who owns a photo studio.
Around 20 minutes after I arrived, Tupe emerged from his room, clad in white shirt and trousers. He greeted everyone in the room and sat down one sofa away from me. One of his aides then brought a pair of shoes and socks. A minute later another one came and sat at his feet, took out some cream, and started massaging his soles.
The briefing started. The agenda for the rest of the campaign was discussed. Tupe made a lot of suggestions and everyone nodded in agreement. Soon all the plans were nailed down.
That done, his aides brought forward many of the workers who wanted personal favours. They came close and whispered in his ear, perhaps not knowing that my Marathi was as good as my Swahili. Tupe listened patiently. Not once did he say no; holding the petitioners by the arm, he assured them that everything would be done. He then ushered all of them outside and sat next to me to talk.
His charges were innumerable. Apart from the drought problem, which he emphasised, he spoke of how arrogant Ajit Pawar had become over the years.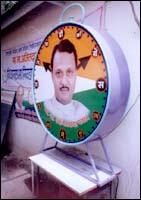 "I worked with him for 10-12 years," said Tupe. "In this period Ajit Pawar has changed a lot. He insults people nowadays. When former MPs and senior leaders come, he does not even ask them to sit down. He neglects developmental work. People don't have basic facilities. Merchants are also suffering..."
Karan Mane, a young relative of Tupe's who owns a furniture shop nearby, said, "Earlier I used to sell furniture worth about Rs 1.25 lakh every month. But now it is barely Rs 15,000-20,000."
When I asked why, in that case, was Sharad Pawar elected to the Lok Sabha once again in May, he said, "That is because he is a national leader. There is a difference."
Tupe added: "Electricity is also a major problem here. Load-shedding is the order of the day." As if on cue, the power went off. "See," Mane said, "this is the problem! We are on an inverter now."
I asked Tupe why he was not contesting as an independent; why the Sena? He praised Sena chief Bal Thackeray and listed out all the developmental works carried out in the state when the party was in power. "Bal Thackeray does what he says."
In the end, Tupe added that he would win because he knew all about the opposition's tactics. "No one here can dare to raise a voice against Pawar. The NCP has terrorised all of them. I know everything."
He should.
POPAT TUPE and Ajit Pawar go back a long way.
Their history, and that of some of the other politicians of Baramati, is fascinating, to say the least.
As Ajit Pawar's election manager in 1991, 1995 and 1999, Tupe played a big role in his victories. It is an irony that he should now contest against the same Ajit Pawar, that too on a Shiv Sena ticket.
But a bigger irony is this: Sunil Shinde, who was Ajit Pawar's opponent in the 1995 election and got thumped, is now helping Tupe – who plotted his downfall – win this election: he is his campaign manager.
There is more.
Chandraanna Taware contested against Ajit Pawar in 1999. He was trounced by a margin of nearly 51,000 votes. He has now made peace with the Pawars and is managing Ajit Pawar's campaign.
It is a cliché, but worth repeating: Politics makes for strange bedfellows.
IN THE afternoon I visited the Congress-NCP campaign office and told a worker that I wanted to meet Ajit Pawar.
Compared to the BJP-Sena office, this one had a lot more people, and a lot more vehicles on duty.
The worker guided me to an elderly gentleman, who promptly called a driver and asked him to take me to the candidate, who was campaigning at Vadgaon, about 25km away.
Once out of the city, it was difficult not to notice the sugarcane fields.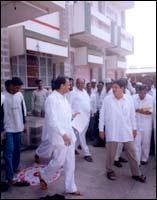 On the way was one of the colleges established by Sharad Pawar; a kilometre or so ahead was his palatial estate; further down was the Shivnagar Vidya Prasarak Mandal's College of Engineering. We stopped there to talk to some of the students and faculty.
Rajendra Bandal, a lecturer in pharmacy at the college (the college has over the years added pharmacy and management courses), showed me around. The college, he said, gets contributions from the Malegaon Sugar Factory, which was established by Sharad Pawar. (The story of the sugar co-operatives in the area and western Maharashtra and how they affect the politics here is something we will get to later.)
The arrangement works something like this: There are around 10,000 farmers who are members of the Malegaon Sugar Factory and send their crop to the factory. Since the factory contributes some money to the college, their children get to study there at a fraction of the fee that the college charges from other students.
There are, Bandal told me, around 1,800 students, of whom around 350 are girls.
For a place like Baramati the facilities are indeed good. There is a hostel, the college has a lot of computers, the campus is green. In short, it has everything needed to churn out bright students.
Shubhangi Kale and Sheetal Taware are two students of pharmacy. They told me that their fathers grow sugarcane and are members of the factory co-operative. Shubhangi's father owns 100 acres of land and Sheetal's father around 41 acres.
Later when I asked the lecturer why Ajit Pawar and Tope had split, he said, "Till yesterday they were good friends. Maybe there was some ego problem."
He was also effusive in his praise of Sharad Pawar and listed out the number of development projects he had initiated in Baramati.
WHILE DRIVING to Vadgaon, we passed a jeep and the driver applied the brakes. He told me that the jeep was carrying a Doordarshan team and I could join it if I wanted to meet Ajit Pawar. I said okay.
A few kilometres further ahead we stopped at a small place where Ajit Pawar was supposed to halt for a few minutes. There I was introduced to Dhananjay Jamdar, a local NCP politician. Jamdar promised that I would be able to meet the candidate. But Ajit Pawar, who campaigns in a Toyota LandCruiser, came and left in a flash, to the accompaniment of slogans.
I was left high and dry.
Jamdar then took me back to the main campaign office, from where I had started in the afternoon. He told me that Ajit Pawar would definitely come there.