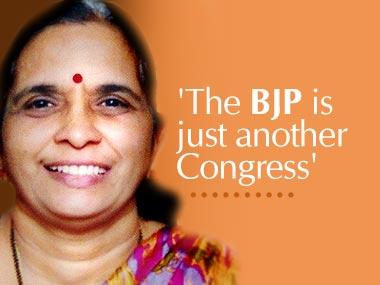 Perhaps more than most, Himani Savarkar nee Godse knows what Hindutva is all about.
The Hindu Mahasabha candidate from Kasba Peth in Pune district is the daughter-in-law of Dr Narayan Savarkar, younger brother of Vinayak Damodar Savarkar, the original champion of Hindutva and currently an icon for the Sangh Parivar.
She is also the niece of Nathuram Godse, the man who killed Mahatma Gandhi.
Himani Savarkar is bitter that the BJP sings peans to Savarkar only when elections are round the corner, and says his legacy is being tarnished.
Savarkar spoke to Senior Copy Editor Salil Kumar about Veer Savarkar, Godse, the Maharashtra elections, and more. Excerpts:
This is the first time you are contesting an election. What made you jump into the fray?
Before the Lok Sabha election in May, the Hindu Mahasabha had decided that in the Maharashtra assembly election at least one person would fight on a Hindu Mahasabha ticket.
Later, we had a meeting on July 23 and it was confirmed that I would have to fight the election.
Was there a particular reason you were chosen?
No, I am an active member of the Hindu Mahasabha. I have been doing Hindu Mahasabha work for more than 30 years.
You are an architect. How does it gel with politics?
I had my practice from 1974 to 2000. In 2000 I decided to stop the practice because I have the copyright on all Veer Savarkar literature. I am its inheritor. So it was my duty to take care of it. That is why I am busy publishing that literature.
The Veer Savarkar Memorial Hall in Mumbai is closed. So I have to go to Mumbai at least once a week to take care of that. I am busy in these things. Plus, there are a couple of organisations in Pune where I have interests.
How relevant is Savarkar in the 21st century?
He is very relevant. Veer Savarkar had foresight. He was a mahapurush. He dreamt of participating in the independence struggle... and had the opportunity of witnessing Independence.
He also dreamt of an akhand Bharat. And we want to fulfil that dream. The area that the British ruled over is all ours, India's. And we want it to be reunited.
How feasible is the idea of India, Pakistan, and Bangladesh coming under one flag?
There is nothing wrong in dreaming big or having big ambitions. Savarkarji was just 16 years old when, in a village called Bhagur near Nashik, he stood in front of Devi's idol in his house and vowed to fight the British. And he did that. He spent every moment in trying to get India liberated. So if one must have a dream, it must be big.
Whatever Veer Savarkar said has come true. He has said, 'Ek naa ek din yah hamara desh akhand ho jayega.' To fulfil that dream we must first win elections.
If we want to think about the country, we must remove Article 370. How can a country have two flags?
Then there is a need for a common civil code so that everyone can get justice.
How do you perceive the role of the minorities in the country?
They demand reservations. They ask for their rights, but they don't know anything about their duties. All Muslims should be a part of India. If they are loyal towards Arabistan or Pakistan, they have no right to call themselves Hindustanis. Woh suvidhayen hamare se le lete hain aur apni bhakti doosre desh mein rakhte hain.
That is why when Savarkar spoke about Hindutva, he was referring to nationality, not religion. It is coincidence that Hindu also refers to a religion.
He never thought of religion when speaking about Hindutva. Those who stay in Hindustan are Hindus, whatever their religion. If people want to practise their religion, they should do so inside their homes. Agar Jain hai, agar Baudhh hai, apne ghar pe kare... jo aacharan kare dharm ke mutabik. Ghar ke bahar sab log Hindu hain. Like those in China are Chinese, those in Japan are Japanese, those in Germany are German, people of Hindustan are Hindus.
Well, that way those in India are Indians, no?
Yes, but who gave us the word India? The British. India was never the name of our country. It was Hindustan. It is an old name. Those who lived near the river Sindhu, where the Vedas were written... the word Hindu comes from the Sindhu river.
What are your memories of Veer Savarkar?
In January 1961 he addressed the SP College in Poona and I was there. Lakhs of people were there. It wasn't like nowadays. Those people were not paid to come. They worshipped him for all that he had sacrificed for the country. He told the audience that he would not speak much because he was not feeling well. But he went on to speak for an hour and 40 minutes! I remember that clearly.
How old were you then?
I was 14. Bachchi thee, school mein padhne walee. I was ten when I wrote a poem on him and presented it to him. We used to call him Tatya. I told him, 'Tatya aap hamare ghar aa jaiye.' I told him that. And he promised to come when my father [Gopal Godse, brother of Nathuram Godse] returned from jail [he was in jail for 18 years for his role in the Gandhi assassination conspiracy].
What kind of a person was he?
Bahut vinamra [polite] theh woh. Mrudu, mrudu [soft]. When he had to be tough, he was tough. When he had to be polite, he was polite. It was not like he took out a sword every time he spoke.
He was also a disciplinarian.
What is your take on the incident wherein Savarkar wrote to the British pleading for clemency?
You see, the letter should be read keeping in mind the entire context. He did not wish to spend his entire life in the Cellular Jail. He wished to see an independent India.
He wrote to the British so that he could get out and do something for the country. Anyway, once in a while some prisoners were freed from Andaman.
It was a political letter. It should be viewed like that. For example, Chhatrapati Shivaji wrote to Aurangzeb that he was his humble servant. But is that true? Was he his humble servant? It was a political move! But what can you tell those who do not understand these things?
Savarkar was not the sort to bend. If he wanted to bend, he could have taken a barrister's degree. But he rejected that. Had he become a barrister he could have earned so much money and maybe one day become President [of free India] also. He never thought of profiting from these things.
What is your take on the recent controversy over the removal of the Savarkar plaque from the Cellular Jail?
It was a wrong thing to do, a very wrong thing to do. There is perhaps no one in the country who underwent the kind of hardships that Veer Savarkar went through. And what is wrong in installing a plaque of a person at a place where he underwent hardships?
Does Mani Shankar Aiyar know what it means to face hardships? Veer Savarkar was there for 11 years. Forget 11 years, or 11 months, can Mani Shankar Aiyar undergo that kind of hardship for 11 days?
He had to take out 30 lbs of coconut oil every day. And that was just one thing he had to do. His food was dirty, his water was dirty. Can Mani Shankar Aiyar undergo this treatment for 11 days?
Would it be okay if we removed Shivaji Maharaj's plaques from Raigad and installed Mani Shankar Aiyar's plaques?
Congress people say he did it in his personal capacity. How can that be? He is a minister. The Congress should apologise. It is an insult to all freedom fighters.
Can you recount some of your experiences with Nathuram Godse and your father Gopal Godse?
When Gandhiji was killed I was 10 months old. So I don't remember having spent any time with Nathuramji. When he was hanged I was barely two-and-a-half years old.
When my father came back from jail I was 18. Yes, we used to go and meet them twice a year – in May, when our summer vacations were on, and during the Diwali holidays. We used to speak for around 20 minutes.
Yes, we use to write letters to each other at least once a month.
Did your father ever speak to you about the incident?
Yes.
What did you talk about?
See, is it a crime to love your country? They did what they did because they loved Hindustan. Nobody paid them money. In fact, during Partition no refugees came to Maharashtra. They did it for Punjab. They could not tolerate it. Trains filled with bodies were coming in from Pakistan. Woh logon kaa dukh seh nahin paaye. Isliye unhone apna sukh tyaag diya.
Was Gandhi's assassination a historical necessity?
If you understand well the situation prevailing then, then yes, it was necessary. But perhaps it does not come out well when I say this because, after all, I am related to Nathuram Godse and Gopal Godse.
After reading about the situation prevailing then, I am surprised why many people did not get this idea... of removing the main reason for all that was happening then.
If you see it from their [Nathuram and Gopal Godse's] perspective, it was perhaps their duty.
Maybe 50 years from now people will agree that whatever they did was right.
How faithful do you think is the Sangh Parivar, and especially the BJP, to Savarkar's ideology?
These people acknowledge Savarkar's patriotism and the hardships he went through. But they don't follow his politics. They keep it at a distance. Savarkar Hindu hith kee baat karte theh. Aur inhone yah chhod dee hai.
They pick selectively. They don't accept him wholeheartedly. That is something that only the Hindu Mahasabha does.
His name is exploited only for political purposes.
Shiv Sena espouses the Hindutva cause in some sense.
So are you saying that the Shiv Sena is closer to Savarkar's ideology?
Yes, definitely. And they are not afraid. Jan Sangh was formed from the Hindu Mahasabha due to a difference of opinion. And Jan Sangh then made way for the BJP. Aur BJP nein Gandhivaadi-samajwaad apnaya. They dumped Hindutva then. They have no right to call Savarkar one of their own.
They are just another Congress.
Did they ever approach you?
No, we never went to them.
And the Shiv Sena?
No, once they allied with the BJP then there was no question.
Last time the Hindu Mahasabha candidate got less than 200 votes. What chance do you have?
I think it is time to adopt Savarkar's politics. Because people know what is true and what is false. BJP has been fielding the same candidate, Girish Bapat, for years. They have no one else. What is this? People don't like this. They want change.
Second, I am a woman candidate.
Three, I am a Savarkar and a Hindu Mahasabha candidate.
If you win, and it is a hung assembly, who would you back? Would you like to join a Shiv Sena-BJP government?
It would be better to decide that later. But I would like to have ties with the Sena.
You are against them, but wouldn't mind joining them...
We will think about it later. There is no chance of joining a Congress-NCP government at least. We will think about this later.
Headline Image: Uttam Ghosh