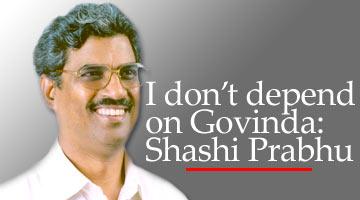 Actor-turned-politician Govinda had sought two tickets for the Maharashtra assembly polls, one for his brother Kirti Ahuja and another for childhood friend-cum-personal assistant-cum-political adviser Shashi Prabhu.
But when it became apparent that he would be able to secure just one, it is believed that the newly elected MP from Mumbai North chose the latter over his brother. Understandable, because Prabhu is credited with being the brain behind Govinda's successful entry into politics.
Now Prabhu hopes some of Govinda's success will rub off on him as he makes his maiden bid to enter the legislative assembly from Borivali, which is an assembly segment in the Mumbai North parliamentary constituency.
He went so far as to tell Senior Correspondent Vijay Singh that his fate at the hustings would have a direct bearing on Govinda's plans for Mumbai North. Excerpts from their discussion on his prospects:
What made you enter politics?
I am a grassroots Congress worker. I have been with the party for the last 33 years. Shankar Pilan introduced me to politics in 1971. I was then 20 years old. At that time, Justice (retired) H R Gokhale was contesting the parliamentary election and his constituency covered the area between Bandra and Dahisar. I did all the jobs that a grassroots-level party worker does, including pasting posters.
Is it true that you are Govinda's mentor in politics?
Yes, I advise him, but insist that he do what he thinks is best. I may be senior to him in politics, but it's not necessary that seniors are better than juniors. Young and new entrants always have their own views. Seniors have more knowledge, but young people have knowledge of today's world.
Govinda fought hard to get an assembly ticket for you. Why?
Because of my background and the success of our strategy for his parliamentary election campaign. Secondly, it's not like I am contesting elections for the first time or after Govinda became a Member of Parliament.
| | |
| --- | --- |
| | Also Read |
| | |
I contested an election for the first time in 2002, which was for a seat in the municipal corporation from ward number 153, but lost. I had applied for a party ticket in 1999 for the assembly election. I had even filed my nomination papers, but then Mumbai Congress chief Murli Deora persuaded me to withdraw in favour of the official candidate while promising a ticket for the next election.
Besides that, I had organised the election campaign of Congress candidate Chandrakant Ghosaliya in the 1999 parliamentary election and Govinda's in the recently held election.
What benefit can people expect from the Govinda-Shashi Prabhu jodi [combination]?
Govinda has many development plans in mind for people of his Lok Sabha constituency, Mumbai North, which covers Borivali too. For example, he wants to beautify Borivali railway station.
We don't believe in bhaashanbaazi [making speeches]. I will carry out development projects by using my MLA fund and Govinda's MP fund. My slogan is Har pariwar ko mile aawas, Borivali Dahisar ka ho vikas, yahi hai mera prayas [A home for every family, development for Borivali-Dahisar].
Are Govinda's development plans dependent on your victory?
Naturally. If someone else were to be elected, Govinda's plans would be held up due to political rivalry. To make his dreams come true, my victory is a must.
Does this mean that to implement Govinda's development plans, people have to elect his close friends to the assembly and the municipal corporation?
It's not a matter of Govinda's close friends. I have been with the Congress for the last 33 years. My friendship with Govinda and my political career are separate.
The Borivali assembly seat is a Bharatiya Janata Party stronghold. What prompted you to choose this seat?
People claim that it's a BJP stronghold, but things have changed. The BJP has been winning the seat since 1977, but could not get the Rajdhani Express to stop at the Borivali railway station, which the area's business community has been demanding for a long time. But I got this done through Govinda within three months of his election.
Another issue: many people living between Borivali and Andheri work in areas beyond Borivali. They have been requesting a change in the timing of the last train from Virar towards Borivali. Previous representatives failed to pay attention to such details.
My party and I don't believe in caste- or religion-based politics. We believe in human beings. I know each and every corner of Borivali constituency. I am here to win.
With help from Govinda's star power?
I rely more on party workers than Govinda because having Govinda with me is of no use unless I enjoy the support of the party workers.
Naturally, his stardom will help me. At the same time, one cannot ignore his work as an MP. People thought that he would forget his constituents after becoming an MP. But within three months, he has been working on the promises he made. He didn't even wait for money to be released from the MP's fund and instead used his own funds. He distributed free notebooks among poor children in all municipal schools of north Mumbai. In every speech, he tells children to take education seriously, but not to forget their parents when they become successful. Such points touch a chord among the people.
What are the main issues in your constituency?
Lack of proper roads, inadequate supply of water, problems of slum rehabilitation. Most important is the stoppage of work on the Borivali-Dahisar rail line due to the presence of about 300 slums in the path. I requested Govinda to meet all the people concerned and finalise a rehabilitation package for the slum-dwellers at Jogeshwari. Work is in progress.
In Gorai, we are planning to convert a dumping ground into a playground.
You seem to be particularly concerned about train commuters. Why?
In our constituency, the two major problems are water and commuting. Women spend a lot of time collecting water for household work. We want to solve this problem and help them devote their energy to more productive work.
Secondly, commuters lose time and energy while travelling to their workplaces. We want to make their journey as comfortable as possible so they can use their stamina for their work.
If you are elected, is there any chance of you becoming a minister?
I have not thought about it. My aim is to defeat the BJP candidate. I do not have to become a minister to do development work. But should the party consider me worthy of such a responsibility, I will take it up.