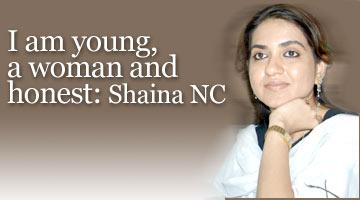 Bharatiya Janata Party candidate from Bandra assembly constituency Shaina NC is urbane, young, energetic, educated, hip, and cosmopolitan. She is the daughter of former Mumbai sheriff Nana Chudasama, a well-known personality who is a director on the boards of several companies. For glamour value, she is a high-profile fashion designer and well-known socialite. As per her affidavit filed with the Election Commission, she is also one of the richer candidates in Mumbai.
Rujuta Paradkar caught up with Shaina to find out how she plans to charm the voters. Excerpts from an interview:
How would you describe your foray into politics?
It is exciting.  It's a great learning experience. I am feeling very positive. And if people from high-rises come out and vote, I am sure to win.
Why did you choose Bandra?
Why not? It has a cosmopolitan image, is a beautiful part of Mumbai, actually the pride of the metropolis. It is home to a wide cross-section of people and I think I fit that profile very well.
Why this shift from designing to politics?
I should have been in politics years ago. I was a student of political science and have been interested in politics ever since I was a kid. In fact, fashion should have followed much later, but it worked the other way. My intentions are honest; fashion is my profession and politics my passion.
Does having a politically well-connected father help?
Yes, of course. I won't deny it. I have grown up in an atmosphere where I got to interact with politicians from all over the country. Finally, I chose the Bharatiya Janata Party.
Why?
I think it is the most progressive party. It's a party which has the most dedicated, loyal, and hardworking karyakartas [workers]. Not only that, there are so many leaders to look up to. Besides, there has been no government that has performed better than the National Democratic Alliance.
What was the response from your family?
My father is very supportive. He, my husband, my brother, and mother are like my pillars. They guide me through everything, including the campaign.
Tell us something about your campaign.
Campaigning involves a lot of energy, a lot of interaction with people. I love people and I want to communicate my message: I am young, I am a woman, and I am honest.
What's your day like when you are campaigning?
It's very hard. I start at 6 in the morning. We go door-to-door before taking a small break for lunch. Then we resume campaigning and go on till 10.30pm. I make sure I meet a lot of residents and that I work in tandem with them. Then we have lots of party meetings. On an average, I leave home at 6am and return by 1.30am. Even if I get four hours of sleep, it's enough.
On being a woman...
An opportunity [to contest an election] for women is rare. But the party workers have treated me well and with a lot of respect. No backbiting, nothing. I want to win people over with my positive spirit.
What are the changes you would like to see in Bandra?
Tremendous. But I don't want to just sit and harp about how I am going to get rid of this and get rid of that because it is practically not possible. But there are lots of issues to be tackled, be it the scarcity of water, the drainage system, the roads in this area, the beautification of Bandra Talav [lake] and Bandra railway station, which is a heritage site.
Besides these, there is a lot of work we want to do for the girl child. Education of the girl child with the help of NGOs is something I want to concentrate on.
What are your party's aims and ambitions?
Right now, the aim is to win the maximum number of seats and come to power. We want to take up a lot of projects – the flyover project, the Bandra-Worli sea link, introduced by my party, but it hasn't been implemented because of lack of funds and my party will pursue it diligently once we are back in power. So there are a lot of serious issues that we want to take up.
Where have you got maximum support from in Bandra?
All over. I have got phenomenal response, be it in the slums or posh areas. But how many people will actually come out and vote is the big question.
Where will your votes come from?
I am counting on the cosmopolitan sections. As you know there are slum pockets in the constituency. The sitting MLA [Baba Siddique of the Congress] thinks he owns their votes, but I am working towards mobilizing the women of the area and the youth as well to come out and vote for me.
You are one of the richest candidates...
Yes, but I did not achieve my success overnight. I earned those riches by hard work, not corrupt means. I started working when I was 18 and have been in the fashion industry for 13 years. I also come from a very affluent family. But that's not a negative point and I am not shying away from saying so.
My main opponent has declared assets worth Rs 12 crore, but where has that come from?
What happens to fashion designing now?
Lots. I finished a show lately. I am going to work on fashion and politics simultaneously. I am not going to ignore one at the cost of the other.
What is the accessory you always carry during campaigning?
Just my cell phone.
Who have been your mentors and supporters in the BJP?
[Mumbai city BJP chief] Vinod Tawde and [Mumbai BJP convener] Piyush Goel have been of phenomenal help. Ashish Shelar, who was supposed to be the BJP candidate from this seat, has been very supportive. At the senior level, I am inspired by [former Maharashtra deputy chief minister] Gopinath Munde and [BJP national general secretary] Pramod Mahajan.

Photograph: Arun Patil | Headline Image: Rahil Shaikh