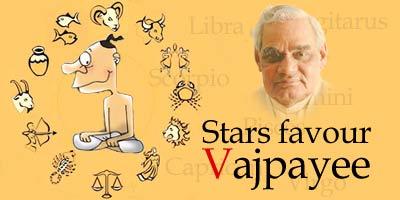 Dr Kirti Raj, 36, has an MA in political science and a PhD in astrology from Tirupati University.
He is a third generation astrologer with eight books on astrology to his credit.
His father K Nagaraja Rao has trained close to 5,000 astrologers, who practise all over India. Dr Raj is a hot favourite with all politicians, and his office in Jayanagar, Bangalore, hums with activity whenever elections are announced.
This time, he has conducted pujas for as many as 138 candidates in his office, employing 32 priests. Right now, pujas for individual candidates are going on, and will continue until the results are announced on May 13.
Last time, his poll predictions, published a month in advance of the election by leading newspapers, turned out to be quite accurate. Dr Raj shared his predictions for Election 2004 exclusively with rediff.com
Atal Bihari Vajpayee's horoscope has a very good yoga, the Vasumathi yoga, just now. I predict he will definitely become prime minister again. The National Democratic Alliance will rule the country again.
I predict the BJP will get around 280 to 290 seats this time. Just before the last election, I had predicted that the BJP would be in power until 2007. I sustain that prediction.
Vajpayee will have some major health problem after one-and-a-half years. At that time, there will be a leadership change in the BJP. L K Advani has a very good chance of becoming prime minister at that time.
As for Sonia Gandhi, she has no scope at all now. She definitely will not become prime minister this time. The position of her party too will remain the same. In fact, it might become 5 or 10 seats less. Next time, Priyanka might lead the Congress to victory.
As for Karnataka, I predict that a new alliance of the BJP and Janata Dal will come to power. Ananth Kumar (Karnataka BJP president) has a guru dasha right now. He is going through a very good period, and his horoscope will help the prospects of his party, as he is its leader.
As for S M Krishna, his time is not good. He will have a bad patch after this for seven years. Since he leads the Congress in Karnataka, his party too will suffer. He may play a role in the new regime, but he will not become chief minister again.
As for Siddaramiah of the Janata Dal, he has a good dasha and period right now, but his horoscope does not show that he will enjoy power.
Whichever government comes to power in Karnataka, it will not last a full term. Last time, I had predicted correctly that Krishna would become chief minister and rule Karnataka for five years. Elections will take place again here after two years.
These elections are taking place between the lunar and solar eclipses. This is why all the exit polls will finally be proved to be false.
__________________________________________________________________________________________
Rajen Sharma is a Rashtriya Punchang pandit and a gold medallist in astrology.
He has been teaching astrology at Mumbai's Sagar Institute Of Education for the past 14 years.
Number 13 is again going to play a crucial role in Vajpayee's life -- the counting of votes is on May 13 [Editor's note: Number 13 was unlucky for Vajpayee in 1997, when his first government collapsed in 13 days. In 1998 his government fell in 13 months. But after that the 13th Lok Sabha completed its five-year term with Vajpayee as PM.]
Vajpayee's planetary position favours him to form the next government. It will also helps his government function smoothly.
May 13 is the day of purvabhadrapad, which is lucky for Vajpayee.
During that period Vajpayee's Jupiter and Mercury will form a triangle. Jupiter talks about expansion, so it will help him form government. Whoever is a part of the government will enjoy friendship with the NDA and won't leave it.
Vajpayee's health will favour him and he will be in a position to handle power till May 28, 2011.
The swearing-in ceremony will also have an impact on the government, so Vajpayee must select the date properly, as he did in 1999.
The planetary position will help the Congress increase its number of members in the Lok Sabha. But it will not be enough to form the government.
Three astrological facts are working against Sonia Gandhi.
Her planets Venus and Mars are opposite and are rivals.
Neptune is opposite to Lagna Bindu.
Pluto is opposite to Uranus.
________________________________________________________________________
Ravi Kishore Narain is senior vice-president of the Patna-based Indian Council of Astrological Sciences. He has been consulting Rashtriya Janata Dal chief Laloo Prasad Yadav for more than a decade. He has been an astrologer for over three decades.
Vajpayee entered certain antardasha from March 12, 2004 in the mahadasha of Jupiter and, therefore he has exalted lagna with a powerful rajyoga karka.
Vajpayee will receive the support of the people, and this will include more minority votes than ever before.
His NDA coalition will return to power although there could be changes in the composition of the partners.
Reportage: M D Riti in Bangalore, Vijay Singh in Mumbai and Tara Shankar Sahay in New Delhi
Ilustration: Uttam Ghosh | Design: Rahil Shaikh