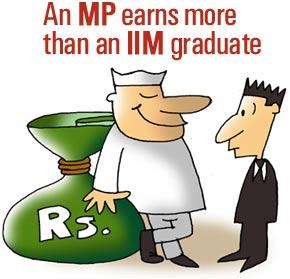 If you want to build a fortune only on allowances, you may want to become a member of Parliament.

The average salary of an Indian Institute of Management graduate is around Rs 700,000 per year.

In contrast, on paper, the salary of a MP is Rs 144,000 per year. A paltry sum of Rs 12,000 per month. But it is meagre only if you don't consider the numerous allowances and freebies that a MP is entitled to.

It pays to be an IIM graduate. But it pays more to be an MP.
In about seven weeks from now, India will have 543 new parliamentarians.

Considering the money they stand to make, the scramble for tickets at various party headquarters takes on a different meaning altogether.

MPs have been raising their salaries and allowances over the years on a voice vote and without any protests in Parliament.
Since 1954, the Salary, Allowances and Pension of Members of Parliament Act have been amended 26 times.
The Act consists of various rules dealing with the travelling and daily allowances, housing, telephone and medical facilities, constituency allowances, journeys abroad and various conveyance and office expenses.
An MP need not be bothered about filing complicated income tax returns simply because he doesn't even figure in the tax bracket radar.
A look at what an candidate stands to gain if s/he enters Parliament: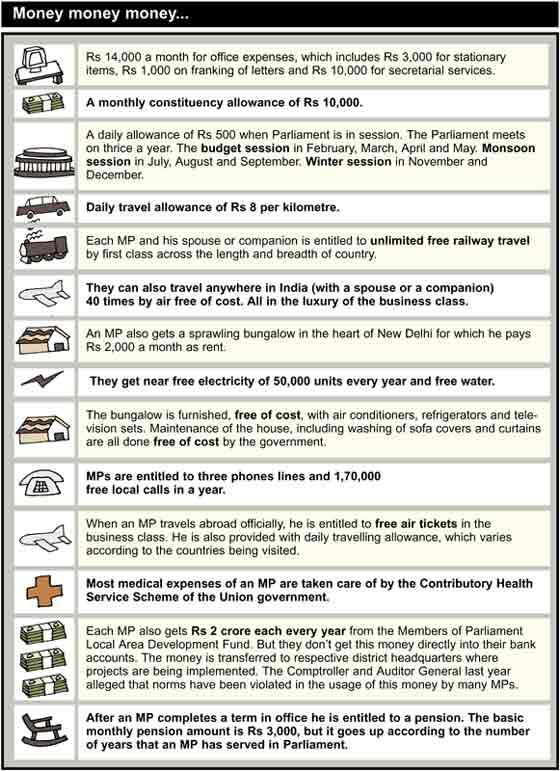 Illustration: Uttam Ghosh