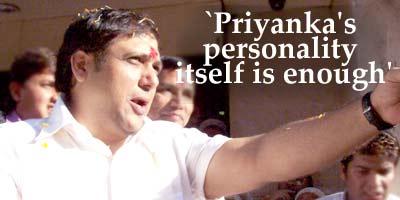 At his peak Govinda donned different hats as an actor. From a bumbling buffoon to a stern cop to a smart advocate, the actor played varied roles with characteristic aplomb.

Last week Govinda entered a different stage -- politics. One that requires pretty much the same skills -- action, drama,  emotion. Govinda has all the credentials to put up a convincing performance in the streets of the Mumbai North constituency.

Arrayed against him is Union Petroleum Minister Ram Naik, the formidable veteran who has won the election from this constituency five times in a row.

With his dazzling smile, Chi Chi, as he is known in the Bollywood universe, is out on the streets of his constituency, charming people and humouring them with autographs.
In all the glad-handing one thing is sure. Govinda can sway crowds. But can he sway them enough to make them vote him into Parliament?
Contributing Correspondent Vijay Singh spoke to Govinda during his campaign:

Why did you join politics, and why the Congress?
I chose the Congress for its thoughts, its acceptance of people of all opinions and its wide perspective.
Another reason for joining the party was my family, which is attached to the Congress for a long period of time. My mother once used to be a Congress leader. About one-and-a-half-years ago I met Congress leaders in Delhi.
So the decision to field me for the parliamentary election is not a sudden one. The Congress leadership had requested me to contest the election quite early itself. They showed confidence in me and I accepted it.
But you have a film career, where was the need to join politics?
But what is the relationship between politics and my film career?
Do you have any objective in mind when you joined a political party?
When you join a political party you are attaching yourself with an organisation of skilled people. And when you work with an organisation your working capacity becomes double. One can perform better with the help of an organisation to implement their thoughts.
How do you see your political career taking off?
One should do good work. Only that should matter.
While you were campaigning large crowds collected wherever you went. Do you think these crowds will translate into votes?
See, when an artiste comes out on the roads everybody will come out for him. I have just started to speak on political things.
I am an actor. So all types of people of all ages and classes will follow me. But when they start liking my thoughts their opinions will be formed. We have to wait for that.
Today you came face-to-face with your opponent Ram Naik. Can you share your experience with us?
I was coming out of the Ganesh temple (at Veer Savarkar Road, Virar east) after darshan when I spotted Ram Naikji.
He is elder to me and I have to give him respect. When I went to greet him, one of his supporters commented that I would be defeated.
I didn't reply. There are rules even in fighting, especially when your opponent is of a particular age. I will not cross my limit even if people encourage me to do something.
Many times people comment and say unnecessary things just to force you to make mistakes.
I will put my views in my own way, and they will be respectable.
Do you think India needs a young leadership?
Young leaders are coming ahead. Rahulji (Rahul Gandhi) came. The Gandhi family is very respectable.
Many other youngsters are also following Rahul. Young men and women of prominent families, who have healthy thoughts and healthy emotions.
Madhavrao Scindia's son is already in politics, Murli Deora's son (Milind Deora) has recently entered and Priyanka will also come in.
With youngsters there is a ray of light. To convert this ray of light into a rising sun one needs to have the blessings of god and elders.
Do you think the younger generation has ability?
Obviously. Just have a look at the youngsters who have joined politics. Like Murliji's son. He hasn't said anything much but he is already so popular.
Rahulji bhi bolenge, lekin jham ke aur tham ke bolenge. Unke josh me hosh bhi hoga. (Rahul Gandhi will also speak, but slowly and strongly. His aggressiveness will have consciousness too.)
Priyanka doesn't even need to speak. Her personality is enough, which speaks a lot about her.
And what should I say about Sonia? Whatever she is saying she is doing that. Even the Opposition says this about her.
Many actor-turned-MPs don't have the time to attend Parliament. How will you manage your acting career and attending Parliament?
When your work speaks you don't need to speak at all.
Many say politics should be a full-time profession and not a part-time business. What is your opinion on that?
If you can manage two things, there is no harm done. But many times due to scarcity of time, many issues do not get addressed.
But the main thing is you do what you say you will.
In this election a lot of film personalities are joining various parties. Critics say they are there only to attract crowds.
It's wrong. Amitji (Amitabh Bachhan) had defeated a personality like (H N) Bahuguna. An actor earns respect and popularity not sitting at home. Amitji even put his life at risk for politics. Duttji (Sunil Dutt) has done so many things for the people and that is why he is respected.
I also took many risks while acting. All for the entertainment of others. Vinod Khannaji and Shatru Bhaiyya (Shatrughan Sinha) did everything to entertain people. We have earned the respect of people and that is why people love us.
You are known as a down-to-earth actor. Do you think this is good enough to get you votes?
This is not enough. The BBC has included me in the list of international personalities. I have acted as a hero in 125 films. Fifty of them were hits. Every year I give at least two hits.
Many people have given me their blessings over the last 12 years for entertaining them. I am sure they will have faith in me as a politician too.
Who is your idol in politics?
I always learn something from everyone. My view is what you learn you enjoy and keep it confidential. I don't want to make it public.
Who according to you is a dynamic leader?
I always learn something from everyone. What name can I tell you? I am very impressed by the Nehru family.
As a youngster did you ever imagine that you would be standing in a parliamentary election some day?
Not even in my dreams. I am here because of everyone's blessings.
Any similarity between acting and politics?
Both are very close to the hearts of people. That is why both have similar names. Neta (politician) and Abhineta (actors).
Did you ever cast your vote?
Yes, I have cast my vote. But I won't reveal who I voted for. My mother used to tell me to keep my behaviour decent and confidential.

Photograph: Jewella C Miranda