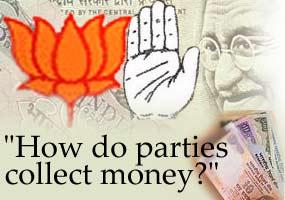 Two people are busy making money these days. Nothing surprising except that they are not raking it in for themselves, but for their parties.

If the Congress has a savvy veteran in Motilal Vora, the Bharatiya Janata Party coffers are in the safe hands of Ramdas Agarwal.

Scooter king Rahul Bajaj once said: 'About 90 percent of the top corporates in India are scared of political parties. They do not want to disclose who they are funding.'
That did not deter Vora who sent requests to 25 top industrial houses last month, asking for donations to fight the Lok Sabha election.
Congress officials disclose the party's requests have met with a lukewarm response. Vora says he can't disclose how much money the Congress is getting from various business houses to fight the election.
"All I can say is we are not flush with funds. A political party of the size of the Congress needs lots of money to fight elections," Vora points out. The Congress has been out of power in New Delhi for almost eight years now even though it has ruled 15 states these last five years.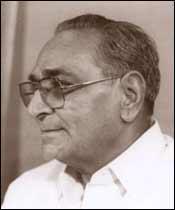 But Vora (right) is not the only one with his hands full. His BJP counterpart is also busy allocating funds to various constituencies and campaigns, including Deputy Prime Minister L K Advani's ongoing Bharat Uday Yatra.
"There is no estimate of how much money we will spend," confesses one of Agarwal's assistants. "But it is going to be huge. We have also approached industrialists for money."
It is hardly a secret that political parties spend huge amounts during elections.
But the economics of running an election campaign are a hush-hush affair. Little is known about the finances of political parties in the country.
In order to regularise donations for political parties industrial associations and business houses have asked for rules to make such funding transparent.

The Confederation of Indian Industry has insisted it will not directly collect money to fund political parties, but has asked its 4,800 members to make donations to political parties only by cheque.
According to the CII, donation by cheque is a transparent way of funding elections so that their members (business houses) are not exposed to the charge of buying influence when they lobby for favourable policies.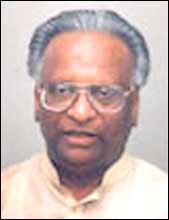 The BJP's Agarwal (left) says his party will audit every rupee it collects as donations. "We collect donations by cheque so that everything is accounted for," he said.
India's largest industrial house, the Tata group, has revived its Electoral Trust, which it set up before the 1999 general election. In 1999, the corpus of the Tata election fund was around Rs 1 crore (Rs 10 million). In this election, it is said to be much higher.
Tata companies contribute funds to the Trust, which distributes donations to various political parties according to their strength in the Lok Sabha. Senior Supreme Court lawyer Dinesh Vyas heads the Trust.
The Tatas argue the main aim of establishing the Electoral Trust has been to create an environment for donating money to political parties in a transparent, non-discriminatory and non-discretionary manner.
The problem of political funding is such a complex reality that over the years there have been three basic proposals that the government wanted to implement to create transparency.
A legislation to regulate party funds -- distribution and spending of party funds during non-elections and elections.
Maintenance of regular accounts by parties and making audited accounts available for inspection.
State funding of elections.
In January 2001, a law ministry advisory panel on electoral reforms issued the most important proposal to regulate political contributions. It asked the government to enact comprehensive legislation to compulsorily audit the accounts of all political parties, publicise such audited accounts and de-recognise parties that file false and incorrect election returns.
It suggested that individuals and corporate agencies be permitted to make contributions to the political parties up to a certain ceiling higher than the present 5 percent of profits and an incentive be provided in terms of tax concessions.
The panel also asked the government to encourage the corporate bodies and agencies to establish an electoral trust, which should finance political parties on an equitable basis during elections.
But the proposal is still lying with the government.
A few years ago, economists Pai Panandikar and Ramashray Roy announced a set of proposals, which included:
State funding of elections.
A government-created election fund at Rs 10 per vote polled throughout the country.
A special funding agency or the Election Commission to administer the fund.
The fund to be apportioned on the basis of votes secured by candidates in the election, subject to a ceiling of Rs 10 lakh (Rs 1 million) per seat contested.
The amount to be released to individual candidates, and not to political parties.
Fifty percent of the fund to be released as an advance before an election, on the basis of previous performance.
Detailed account of each candidate to be audited by the Election Commission.
But no serious debate has taken place on these proposals. The result: Transactions between the donors and beneficiaries take place in secrecy.
Tomorrow: How much does an election cost?