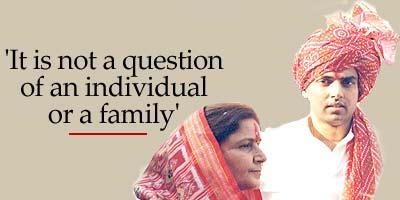 A few weeks ago Sachin Pilot, the 26-year-old son of the late Rajesh Pilot, was in the news was when he married Sara, former Jammu and Kashmir chief minister Farooq Abdullah's daughter.

Sara's family did not approve of her choice and none of the Abdullahs turned up for the wedding. But that is past and Pilot junior does not want to talk about it.

He is in the news again and that is what he wants to talk about. The Congress party has nominated him to contest from Dausa, the constituency his father returned victorious from in five Lok Sabha elections.

Many in the party believe Sachin's mother Rama Pilot, the sitting MP from Dausa, should have been renominated from the Rajasthan constituency. They argue she had a better chance of winning the seat.

In an exclusive interview to Chief Correspondent Onkar Singh at his Canning Lane bungalow in the heart of New Delhi, Sachin Pilot brushed aside the objections.
"It is not a question of an individual or a family. It is a question of what the party tells you to do and this is what precisely I am doing," he said.

Were you surprised when the party announced your name from Dausa?

Not at all. I have been working in that area and Rajasthan as a whole for the last few years. During the time when my father represented this constituency, I was involved with people living in this region. It is an opportunity that the party has given me to fight elections and win it with a big margin. The party has given its mandate; now I have to seek the mandate of the people.
I think it is not a question of being surprised. When we work towards a goal it is a collective decision. The aspirations of party workers are obviously taken into account.

Is there some guilt that you have taken away your mother's seat?

Not at all. It is not a question of one mother, one son or one family. The Congress is a big party and whatever is in the best interest of the party is also in the best interest of the Congress worker.
We belong to the Congress party and our main aim is to strengthen it as an organisation. This can be done both from within Parliament and outside. Whether it is my mother or me we would work towards strengthening the party. This time around the party has given me a mandate to go to the people, I would smilingly go to them and hopefully win the election.

Will your mother stand behind you?

Of course, she will. I am very close to her. When my father was in politics or later when she joined politics, I worked with her. We work closely as a family. She gives me good guidance. We have a very good support system and I am very lucky to have that. She has been my mentor after my father's death. My mother and I have worked together in every election and we would continue to do so in future as well.

What was the experience like when you worked with her in the assembly election in Rajasthan last year?

It was my party's decision to field my mother against Mrs Vasundhara Raje Scindia. [Jhalarpattan] has been a tough seat for the Congress for the last 40 years but as footsoldiers of the party we carried out the orders of the high command. Vasundharaji was contesting as the chief ministerial candidate, but we put up a good fight.
Politics comes naturally to me because I have grown up in this environment for almost two decades.

How much do you miss your father Rajesh Pilot?

He was my inspiration and continues to be so even now. I miss his presence tremendously. I feel he is helping me from wherever he is. I cherish every single moment of the 22 years that I spent with him. I recall and relive those moments and enjoy (them). I remember his smiling face. One thing that has been passed on to me by him. I face all my challenges with a smile.

Do you think you would have entered electoral politics this early if he were alive?

Sir, there is no point saying what you would have done if he were around. In hindsight it is very difficult to say what you would have done. Of course, I would love to have him around. Circumstances changed so much after my father passed away that I found myself doing different things. I was doing my MBA in the US when he passed away. When I came back I found that the expectations of the people had suddenly gone up. I was travelling and meeting with people in Dausa. Wherever I went people showered their love and affection on me and my mother. Particularly, the farmers who identified with my father. I felt that I owed them a debt of love and I must give back what they have given me.
I started feeling this is where I belong. I could have continued working for a multinational company. It is very important for young politicians to have professional qualifications and bridge the gap between the computer savvy generation and the elders. To be a politician you have to understand the diverse aspects of this great country.

How will you put your education to practical use?

No matter what you do, your education is never going to be a waste. You can use it effectively to your advantage. Money, power and fame come and go. Your education remains with you throughout and helps you in difficult circumstances. I am trained as an economist and I am sure there would be times in life when I would use my experience and education and work them to my advantage.

Fifty-four percent of Indian voters are between 18 and 35. How will you appeal to them to vote for you?

The challenge before politicians is how to meet the expectations of younger voters. We have to understand the needs and aspirations of the young electorate. It will be my endeavour to fight for this class which aspires for jobs, quality education, social harmony -- issues which are fundamentally missing in our country. Young people would have to be involved in the political process. I would appeal to them to come out and vote.

If younger voters ask you about jobs, what will you tell them?

It is not the government's job to provide jobs. You cannot be a socialist state forever. What is important is that the government provides an environment which helps in job creation. The youngsters must not only find avenues for themselves, but also create jobs for others as well.

What are your plans for Dausa?

Dausa is a typical rural constituency where the farmers still use crude, outdated equipment to till their land. I would like to improve the lives of people in my constituency, provide them with quality education and job-oriented skills.

When you got married it made news.

I would like the media to leave us alone. My wife and I are in the process of settling down. She is a non-political person and  loves her privacy.

Will she be alongside you during the campaign?

Of course, she is going to be there to support me. She has been very understanding. She supports me fully.
Sachin Pilot's photograph: Uttam Ghosh
Image: Rahil Sheikh