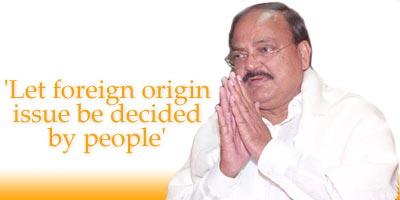 Celebrating Ugadi, the Telugu New Year, at his 20 Aurangzeb Road bungalow in New Delhi, Bharatiya Janata Party chief M Venkaiah Naidu looked happy.
Plying his numerous guests with Andhra delicacies, Naidu -- master of the one-liner -- said, "We are here for meeting, greeting and eating."

On the sidelines of the event, he spoke to Chief Correspondent Tara Shankar Sahay.
What advice did you give (Uttar Pradesh BJP unit chief) Vinay Katiyar on Sonia Gandhi's foreign origin issue?
Our party's principled stand is that we are against a person of foreign origin. I told our party leaders there should be no personal allegation. We are keeping our part of the bargain, but the Congress is not
What bargain?
I have heard (former Congress Rajasthan chief minister) Ashok Gehlot telling people that (Chief Minister) Vasundhara Raje Scindia is an outsider and doesn't belong to the state. Just what kind of parochial politics is this?

Congress leaders in Chhattisgarh kept saying the state can only have a tribal CM. Similarly, we can say that only an Indian-born person should occupy high constitutional posts like the President and prime minister.
And how does the BJP plan to achieve this?
We are saying -- let this issue be decided by the people. If that is the janadesh (mandate) then maybe a law can be brought forward in that context.
Will the issue of bringing in a law to forbid foreign-born individuals from occupying high posts figure in your party manifesto?
It is best to wait and watch.
Both the Congress and the BJP campaign has been reduced to hurling charges and counter-charges
No, we are merely rebutting bogus allegations. They (the Congress) are making contradictory statements, saying we have not done anything. But at the same time they are taking credit for the rapid strides made in all sectors under Atal Bihari Vajpayeeji. One cannot be more confused and their contradiction is apparent.
What is your response?
We are saying let there be a debate with the relevant facts and figures about their achievements in 50 years and ours in just five years. Rural roads, highways, telecom, IT, food, housing, irrigation, power, science and technology, education, name any sector and we are ready for the debate. The Congress is resorting to absurd charges, which is an insult to the people.
How is that?
They talked about farmers' suicides and our prime minister rightly asked in Maharashtra, Karnataka, Punjab and other (Congress ruled) states as to who will bring the solution. The National Democratic Alliance governments are in five, six states and our allies in a few others. The Congress boasts about being in power in 15 states. The people know the Public Distribution System is the responsibility of the state governments. So it is the failure of the Congress state governments.
Isn't this nitpicking?
Go and ask the Congress whose sole occupation is making allegations. Did we start the Kashmir problem? The ULFA tangle? The Naga problem? The Naxal problem? Did all these start when Vajpayeeji came to power in 1998? Was he responsible for the Bhindranwale phenomenon? The list of their omissions and commissions is endless. I think it will be better to start a debate on the problems this party has created in our country.

Also imagine the Congress talking about corruption, scams and scandals. I need not go into details. Their charges amount to a pot calling the kettle black.
What is it that you want now?
Let us have a constructive and a healthy debate on all these issues, including development, security, peace, progress, prosperity, literacy, education and the like. We can have a phased debate up to the elections. The country will benefit and the level of the election campaign will go up.
Why is your party objecting to the Congress campaign?
It is insulting the country as Vajpayeeji has pointed out. The kind of derogatory election advertisements showing youth bemoaning non-existence of jobs on television and contrived pictures of hungry men, women and children is bringing down the image of the country among the international community.
But every party is free to campaign as it likes. Even your party is raising issues, which are questionable.
We haven't stooped to their level. I told you it is our principled stand on the foreign issue. The Congress doesn't understand that they have ruled for half a century while we have only been in power for five years. It is a disgrace for them showing such pictures.
I also want to point out that the Congress has attacked regional parties. I ask you who is responsible for the growth of regional parties? It is the Congress because they ignored regional aspirations for the entire tenure of their lengthy rule in this country. Sonia Gandhi has been attacking coalition governments. She would do well to clarify her party's stand on it.
The BJP campaign can also be criticised.
We are sure footed. We are not treading on thin air. The Congress is still promising the moon to the people. In some states, they are talking about providing free power like they earlier unsuccessfully did in Madhya Pradesh and Punjab. Now they are talking about providing free power in Andhra Pradesh.
How is your campaign different?
We are concentrating on issues. I would like the Congress to do some introspection on its earlier campaign calling our leaders names, including Ravan.
Is your party wary of the Congress?
By no stretch of imagination can the BJP worry about the Congress, which is not significantly present in Uttar Pradesh, Bihar, Tamil Nadu or West Bengal. There are about 200 (parliamentary) seats in these states.
How do you read the BJP's electoral prospects?
Not for nothing is the feel good factor being felt better. I can tell you that after touring the southern part of the country. I see a perceptible change in the mood of the people in favour of our party. I think we will even open our account in Kerala. We got tremendous response in all four southern states. The winds of change are blowing in Karnataka.