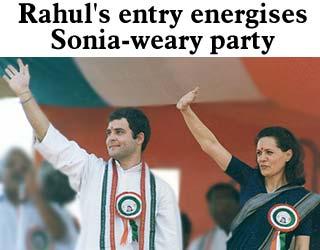 It was the political equivalent of Shoaib Akthar bowling a googly -- totally unexpected.
While all along the expectation was the Congress party would field Priyanka Gandhi in the Lok Sabha election, party president Sonia Gandhi sprang a surprise on Sunday by nominating her son Rahul from Amethi, the constituency held by her late husband Rajiv Gandhi and from where she was elected in 1999.
In the pipeline is the party's second secret weapon: Priyanka Gandhi-Vadra, whose nomination is being kept a well guarded secret.
A day after the Congress party officially announced Rahul's entry into mainstream politics, party leaders claim the rank and file across the country is "electrified."
But is it a case of a decision taken too late? Will the entry of Rahul -- a political greenhorn who, unlike his sister, has so far not demonstrated too much keenness for the rough and tumble of electoral politics barring visits to Amethi -- rescue the party at a time when both opinion polls and political commentary seem to have written the party off?
There are two opinions on the issue. Congress leaders, naturally, claim that to begin with, the least it would do is boost the party cadre's morale.
"Rahul Gandhi's decision to contest the Lok Sabha election is the best thing to happen to the Congress party. It has given a new lease of life to us. I am sure it will electrify voters across the country," Vayalar Ravi, Congress general secretary, told rediff.com
But Opposition leaders do not take such a rose-tinted view of the move, and say Rahul's nomination exposes the Congress party's over-dependence on the Nehru-Gandhi dynasty.
Bharatiya Janata Party General Secretary Vijay Kumar Malhotra, for one, said Rahul's plunge into politics showed the "ridiculous levels of dynasty."
"It is sad Congressmen now want to be led by someone who does not possess any political experience and skill," Malhotra said.
But the BJP itself recruited another greenhorn -- Rahul's cousin Feroze Varun Gandhi -- last month and has begun using him aggressively in its campaign. 
Many Congress leaders view the 33-year-old Rahul's nomination as a "prize catch," especially since his mother is "no longer a vote-catching politician."
Sonia Gandhi's leadership of the party was expected to energise the Congress into reclaiming its lost position. But over the last five years, her helmsmanship performed no miracle, either in the 1999 Lok Sabha election -- in which the party bagged only 112 seats -- or in the 2004 assembly election in Madhya Pradesh and Rajasthan, where it was routed.
In fact, most often, her leadership seems to have laid bare her political inadequacy, leaving many within to silently question her capabilities. In true Congress style, its leaders air their doubts in private, praising her leadership in public.
Sonia Gandhi's 'foreign origin' is such a liability that some party leaders concede they will be unable to take the BJP head-on with her at the helm.
Congressmen represented in scores to bring in Rahul and Priyanka, to at least campaign for the party if not enter the electoral arena themselves.
Leaders like Ravi claim the Congress is in revival mode now thanks to Rahul and Priyanka's involvement.
Gandhi's decision to field her son from Amethi, a Lok Sabha seat she won in 1999, and herself contest from Rae Bareli -- the Lok Sabha seat her mother-in-law Indira Gandhi represented in 1967, 1971 and 1980 -- has an emotive angle. In 1977, soon after the Emergency, when Indira and son Sanjay Gandhi (Feroze Varun's father) contested from Rae Bareli and Amethi respectively; both lost. The two constituencies elected them in 1980.
Rajiv Gandhi was first elected from Amethi in 1981, a year after brother Sanjay's death in an aircrash, and retained the seat in 1984 and 1989. "Soniaji wants her son to be like Rajiv. It will do a lot of good to the party," confided a Congress party politician. "The best thing is Sonia is now realising that her foreign origin is posing huge problems for the party."
According to Ravi, Amethi is "the best election debut ground for Rahul."
"Rajiv Gandhi began his political career from Amethi. We are sure Rahul will be another Rajiv Gandhi in coming years," he added.
Some analysts believe the Rahul factor will blunt the unrelenting attack on Sonia's foreign origin. But not many are convinced that his entry at this stage will help the Congress improve its electoral performance.
For Rahul, a political novice, there is plenty of tough political terrain ahead. First, the dynasty factor has been so overplayed that the Congress virtually has no second-rung leadership. He will have to demonstrate, quickly, that he has more than the family name going for him.
Second, it took years even for Indira and Rajiv Gandhi to get a grip on the thrust and parry of politics. What unique skill will the Harvard-educated Rahul bring to the party – is a question that needs to be answered, and answered fast.
Meanwhile, is the BJP running scared? Malhotra does not think there is cause for worry and is confident Rahul's entry will not make any impact on the country's electoral scene. "It will not have any ripple effect. The BJP is least concerned about what is happening in the Congress," he said.
He felt the time for dynastic politics is over. "The Congress will realise after this election that dynasty politics does not work in the country any longer."
That may be the view from the other side, but to Congressmen clutching at straws the decision shows one thing: mother Sonia may want Rahul, and not Priyanka, to lead the dynasty and the party from here on.
Probably, Rahul's striking resemblance to his late father led to her decision.
Image: Dominic Xavier