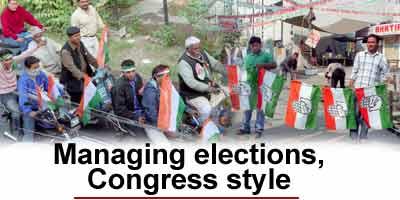 As a truck decorated with Congress flags and portraits of Sonia and Rajiv Gandhi gets stuck in the narrow passage leading to Maharashtra Chief Minister Sushilkumar Shinde's bungalow in New Delhi, a man standing in the corner volunteers to help the driver.
He bangs the truck's bonnet and shouts instructions to the driver. Finally, the vehicle arrives at the building's entrance.
This is Jairam Ramesh, secretary of the All India Congress Committee's economic cell and member of the publicity committee who looks after the party's election management.
Rolling up his sleeves, he directs workers to bring the two television sets kept inside the bungalow and fix them on the truck.
"This truck is very important. This is going to make a real impact," explains Ramesh. The MIT-trained economist (who once served as advisor to then finance minister P Chidambaram) spends most of his time these days at Shinde's home on Lodhi Estate, a stone's throw away from the historic Lodhi monument.
The house is a hub of activity. Senior leaders hold meetings and brief public relation agencies.
Ramesh says it is mandatory for every Congress candidate to have one such specially designed truck. Apart from the portraits of Sonia and Rajiv Gandhi, it has two big sound boxes, a microphone, posters and banners, two televisions, some VCDs, a platform to make speeches and some space for supporters to stand.
Ramesh checks if the truck has all the required paraphernalia. He then shouts at his workers: "Where are the Telugu cassettes? I don't want to miss anything." He then inquires if the posters and banners are ready.
At another house on South Avenue, behind Rashtrapati Bhavan, party strategies are implemented, suggestions made and ideas generated.
The three-room apartment is abuzz with activity. It is where senior leaders meet junior colleagues.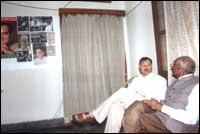 The living room has a wooden cabinet where newspapers of most Indian languages are kept. It has a computer with Internet access and a number of television sets that beam news channels round the clock. People monitor the channels and alert party workers in the field.
In another room, meetings take place. It also has a computer where letters are printed and dispatched to party workers and the high command.
The third room has a television set connected to a recording machine. A professional edits the recording of all important news stories and creates videocassettes for publicity and to counter BJP propaganda.
It also has a section where mastercopies of all posters and banners are made and stored. It is from here that advertisements in the print media are dispatched. 
But who are the men behind all this?
Jairam Ramesh (below right)
Ahmed Patel, party general secretary and political secretary to Sonia Gandhi;
Motilal Vora, party treasurer;
Janardhan Dwivedi, AICC secretary;
Balkavi Bairagi, bard, head of the Bairagi Maha Mandal in Punjab and MP;
Shakeel Ahmed Khan, former president, Jawaharlal Nehru University Students Union.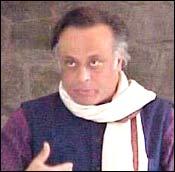 Party president Sonia Gandhi, senior leader Salman Khurshid and Sonia aide Ambika Soni supervise the team.
"We have decentralised management," says Khan. "Decisions are made by the core group; it then percolates down to the local level for implementation. We are working silently. Sonia Gandhi's roadshow and the mass contact programmes are doing well. Other senior leaders visit state units and crucial constituencies."
The Congress plans to focus its campaign on the National Democratic Alliance government's 'failures' and the changes the party wishes to bring in, says Patel.
Unemployment, divestment of profit-making public sector units, rising prices of basic commodities, farmers' suicides and corruption in government are the basic issues, he explains.
"We have designed posters with facts and figures to explain this government's failures. We will include everything from Bangaru (BJP president Bangaru Laxman who was removed after the Tehelka scam) to Judeo (Union minister Dilip Singh Judeo, who was compelled to resign after being caught on camera, allegedly accepting a bribe), the UTI scam and defence deal, etc."
The campaign will project Sonia as a mass leader, but not the prime ministerial candidate.
The language of the common man has been used to counter Gandhi's foreign origin issue. 'Jan Jan ki yehi pukar, Sonia Gandhi bahu hamar (Voice of the common man, Sonia Gandhi is our daughter-in-law).'
Orchid, an advertising agency in Delhi, is designing the posters and banners with the help of the publicity committee and some 'secular' individuals in the media. Perfect Relations manages the party's public relations.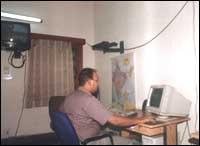 Says Khan: "Our posters target the common man and rural people. We are using their language and focusing on their problems because India is not shining for them."
"Communalism is another area, with slogans like 'Gujri nahi hai Gujarat ki raat (Gujarat is not yet over),'" he adds.
The party will also focus on the positive agenda with slogans like 'Mera Bharat meri shaan, yehi hai Congress ka armaan (My India is my pride, this is the Congress' desire).' Rajiv Gandhi's acquittal from the Bofors scandal will also be highlighted prominently.
The party wants to counter the BJP's Indian Shining campaign by saying the country is shinning because of the basic infrastructure laid by the Congress.
"We have created films covering all these aspects and the work of Sonia and Rajiv Gandhi," says Khan.
State problems will be highlighted via hoardings. The hoarding on one particular issue will stay for three days and will then be replaced.
A series called 'Nahi Chalega' (Will not work) is coming up soon, which will focus on the NDA government's policies.
A group of youngsters analyses content in all national and select local newspapers and sends the feedback to the high command. Advertisements are released accordingly.
But the Congress is not ignoring urban middle class voters, who have been targeted through SMS and e-mail. Says Jairam Ramesh: "We believe in working with the people. And here we are confident of winning."
Photograph: Vijyendra Tyagi