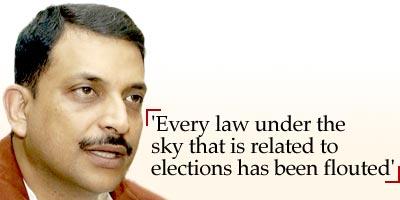 Union Civil Aviation Minister Rajiv Pratap Rudy, who contested against Rashtriya Janata Dal chief Laloo Prasad Yadav in Bihar's Chhapra's Lok Sabha constituency, is fuming. Booth-capturing and violence marred the voting on April 26. As is to be expected, there is no dearth of charges and counter-charges, with both sides accusing each other of unleashing terror in the constituency.
The minister, a Bharatiya Janata Party candidate, in a telephonic conversation with Copy Editor Salil Kumar from Patna, spoke about what happened last Monday and what he plans to do now:
You have requested the Election Commission to countermand the election in Chhapra. What exactly happened there?
Large-scale booth-capturing along with using the official machinery; breaking all election norms where (state) ministers and MLAs were moving around capturing booths with their bodyguards, and a lot of violence. Six killings and hundreds of people injured.
| | |
| --- | --- |
| | Also Read |
| | |
Why not call for a repoll in some booths rather than countermand the election?
The total number of booths declared sensitive by the Election Commission was around 800. The total number of paramilitary forces deployed in these booths was only around 100. We kept filing complaints about the rest of the booths that were completely uncovered
And how many were they?

About 400 booths were completely uncovered. No security at all. When we complained, the Election Commission did not have the means to cover all my complaints. So naturally there was some mayhem. We said at least all those booths should be verified. The whole election process stands vitiated. Every law under the sky that is related to elections has been flouted.
The two First Information Reports filed against you accuse you and your bodyguards of indulging in violence. What do you have to say to that?
If you read the contents of the first FIR, it was filed on a Rashtriya Janata Dal pad on which it said 'Laloo, Rabri zindabad.' Someone, who is the son of the Rashtriya Janata Dal block president, files a complaint that I went to the booth -- of course, that booth had paramilitary forces deployed -- that I slapped him and snatched his chain, his wristwatch and 3,000 rupees.
So you can imagine, on the day of the election, I am going around snatching. The incident took place on the 26th and the FIR came to the knowledge of the media on the 29th, three days later. So they also backdated the diary to institute a case. Because yesterday when I took a copy of that complaint from the (Chief Judicial Magistrate) CJM's record room, the CJM had just received that complaint.
A case related to the 26th, which under the law should be put up to the CJM within 24 hours, was supposedly put up after four days. That means the station diary was backdated and that case was instituted after I made a complaint to the Election Commission.
The RJD says two people died while making a bomb. It also alleges they belonged to your camp.
I am not even aware of such a thing. They are also making allegations that my brother is an IPS officer. They are making all kinds of allegations. They are talking anything. Now all these things are coming to (their) knowledge after five days.
Do you think the Election Commission will grant your request?
The Election Commission has extended all fairness by sending a two-man team. They will verify all what has been reported to me and what people have to say in Chhapra.
Do you see a re-poll happening in Chhapra?
I would not be able to comment on that. That is for the Election Commission to decide.
Did you think of contesting from two constituencies like Laloo Yadav?
I have always been elected from here (Chhapra) and will contest from here.
Laloo Yadav has won from Chhapra twice and you also have won twice. It is not going to be that easy this time.
How do I know? The process is on. But I am confident of winning.
Image: Rahil Shaikh