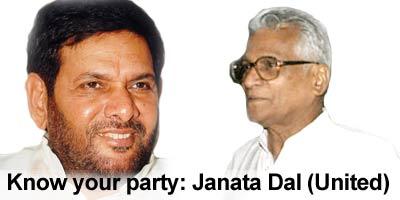 Full name
Janata Dal (United)
President
George Fernandes
A little bit of history
The Janata Parivar has been jinxed since it came into being 27 years ago. Its constituents have split, merged, split, merged, split so many times that very few actually know who is what. The problem was, and is, that the Janata Parivar had too many leaders.
Two of the constituents -- the Samata Party and the Janata Dal (United) -- that decided to join hands with the Bharatiya Janata Party merged into a single unit on October 30, 2003. The party is now called the Janata Dal (United).
Characteristically, it was another member of the Janata Parivar, Laloo Prasad Yadav, who brought them together. The irrepressible Laloo has proved to be a bane to the likes of Samata Party leaders George Fernandes and Nitish Kumar and JD (U) chief Sharad Yadav. He had welcomed Samata Party rebels like Raghunath Jha and Brahmanand Mandal into his Rashtriya Janata Dal, which is also a part of the extended Janata Parivar. Ironically, Laloo, Nitish Kumar and Sharad Yadav -- as also Bihar BJP leader Sushil Modi -- were all fond comrades and became leaders of note in Jayaprakash Narayan's Total Revolution movement of 1974.
What brought Fernandes et al together?
A common desire to dislodge Laloo from power in Bihar.
JD-U philosophy
Merge the splinter groups of the Janata Parivar. Although no one admits it, the JD-U's other aim to act as a pressure group within the National Democratic Alliance, in which the dominant BJP has few challengers.
How is the party run?
Arbitrarily, on a day-to-day basis. The JD-U primarily draws sustenance from the standing of the triumvirate of Fernandes, Sharad Yadav and Nitish Kumar. They have largely been instrumental in formulating its policies and strategy, which is why rebels have surfaced from time to time. Most of their strategies are centred on dislodging Laloo's RJD in Bihar.
Does it have a mass base?
Not really. Bihar and Karnataka are the only two states where it has a presence. It has not found enough support to dislodge the RJD in Bihar and the relentless fighting among members of the Parivar has taken its toll in Karnataka.
Individual leaders continue to have their pockets of influence. For example, it is difficult to defeat Nitish Kumar in Barh or Nalanda, both in Bihar. However, no leader has a national stature. Fernandes may fret over this but then would he have made it to Parliament in recent times but for Nitish Kumar?
Numbers in Parliament
With the constant splits and mergers, keeping track of its MPs is a logistical nightmare. But rediff.com dares to stick its neck out and claim it had 20 members when the 13th Lok Sabha was dissolved.
Strengths
Supporters of the Janata Party, which formed the first non-Congress government at the Centre in 1977, are still nostalgic about the Parivar but also realise its shortcomings. They have now shifted allegiance to either the Congress or the BJP.
Weaknesses
Inability to put the people, the nation above themselves. The big three -- Fernandes, Nitish Kumar and Sharad Yadav -- are known to be envious of each other's political prospects and progress. This philosophy has filtered down to the party's rank and file.
Challenges
To improve on its 1999 tally of 23 seats in the Lok Sabha, most of which came from Bihar where it had an alliance with the BJP. For this, Fernandes, Nitish Kumar and Sharad Yadav will have to rise above personal ambition and put up a united front against Laloo. In Karnataka, the BJP went it alone; hence, the JD (U) can at best play the role of a spoiler when the results come in next fortnight.

Image: Rahil Shaikh