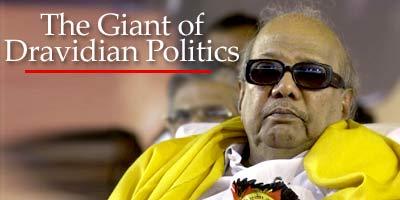 Full Name
Muthuvel Karunanidhi

Background?
Born in a family of barbers in Thanjavur district in Tamil Nadu. Entered politics when he was still at school, in class 8. Joined the Justice Party after being influenced greatly by 'Periyar' E V Ramasamy Naicker.

In 1944, the Justice Party changed its name to the Dravida Kazhagam. In 1949, the DK's brightest political star Conjeevaram Natarajan Annadurai 'Anna', his protege Karunanidhi and others split from the DK -- their differences began after 'Periyar' wanted August 15, 1947 to be observed as a day in mourning and grew into an unsurmountable divide -- to form the Dravida Munnetra Kazhagam.
How did Karunanidhi rise to prominence?
Karunanidhi wrote film scripts and fiery dialogues for Tamil movies. That ability, along with the fact that he is a fantastic public speaker, led him to be anointed number 2 in the DMK after the much venerated Anna, just a wee bit ahead of his rival, Tamil movie superstar M G Ramachandran.

Karunanidhi's rise to prominence was further abetted by the DMK's anti-Hindi agitation in 1965. He still reminds the Tamil people that he was jailed in a room with lizards and cockroaches.
Another agitation that made him famous was when the Congress government changed the name of a town from Kallakudi (located near Tiruchi) to Dalmiapuram because the Dalmias had set up a cement plant in that city. The DMK decided to block the movement of trains in protest. Karunanidhi famously lay down in front of a train. This then unfamiliar act of bravado -- now routine for agitators throughout the nation -- made him famous, as did the fact that the town kept its original name.
When did he become chief minister?
The DMK ousted the Congress from power in the 1967 election, and Anna became chief minister. But he died of cancer in office two years later. After a mammoth funeral for Anna, the likes of which had not been seen even for Gandhi, Karunanidhi succeeded him to become India's youngest chief minister at that time (he was 46). Thirty five years later, he remains leader of the DMK.
But he spent many years in the Opposition, didn't he?
For 12 years, from 1977 to 1989, Karunanidhi was leader of the Opposition after MGR, his former DMK colleague, broke away from the party and formed the All-India Anna Dravida Munnetra Kazhagam. MGR's huge popularity meant he won power in Tamil Nadu repeatedly and stayed chief minister till his death in 1987. After MGR died the AIADMK fell into disarray as his widow Janaki Ramachandran and the party's propaganda secretary Jayalalitha Jayaram (now state chief minister J Jayalalithaa) squabbled over its leadership.
Karunanidhi, who had kept the DMK united, spotted his chance and returned to power in the 1989 election.
What problems does the DMK confront now?
Karunanidhi, who will be 81 on June 3, is rather frail. He has been accused of running the DMK like an extension of his family; this forced one of the party's biggest stars V Gopalaswamy, alias Vaiko, to break away and form the Marumalarchi DMK in the mid 1990s.
Moreover, his sons, M K Stalin and Alagiri (he has another son Muthu), are controversial, do not get along with each other and clearly do not have their father's charisma.
The DMK's biggest challenge will come after Karunanidhi passes into the ages. Neither Stalin nor Alagiri seem capable of keeping the DMK flock together and posing an equal challenge to Jayalalithaa, who, at 55, is young enough to stay in contention for another quarter of a century at least. The DMK's best chance of staying relevant lies with it looking outside the family for its next leader.
In fact, Vaiko has drawn larger crowds than anyone else -- Jayalalithaa and Karunanidhi included -- this election, leading to speculation that he may return to the DMK and eventually head the party, something that no doubt gives Stalin and Alagiri nightmares.
Image: Rahil Shaikh