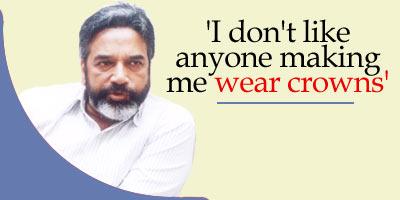 Sukumaran Nambiar, the BJP's national treasurer and son of yesteryear Tamil movie villain M N Nambiar, holds master's degrees in international relations and business management. He is a black belt in karate and says he has trained the army's commandos since 1984. The BJP's candidate from Chennai North now tackles six questions from Special Contributing Correspondent Shobha Warrier.
Are you very particular about the way you dress when you go campaigning?
Not at all. I generally wear pyjama-kurtas because my father always did, though it is not an outfit preferred by Tamil Nadu's politicians. I am also one of the few guys who move around in a pant and shirt. Now, it is quite common in the BJP but, in the beginning, all the others used to wear dhotis; I was the odd man out.
Are you superstitious about anything before you start campaigning?
I am not superstitious at all. I don't look at rahu kaalam or anything like that. But I have one condition. I don't like anyone making me wear crowns or huge garlands or asking me to carry a sword. I can use a sword really well in martial arts, but I don't like holding it as a politician.
How do you keep yourself fit?
I get up very early. I have a gym at home and I work out every day. I used to train army commandos in martial arts in my gym. I have a set of exercises based on martial arts but I don't do any weights. I have done all kinds of martial arts, including karate, judo, kalaripayattu and stick fighting. I practise regularly. I am a polo player, a shooter and a swimmer; that is how I keep myself fit.
How do you relax these days?
I really don't have time! Luckily, though, I am the kind of person who can sit in the middle of a crowd and relax. I can shut myself off. I listen to music. I carry a Walkman even when I am exercising. I listen to a lot of instrumental music. I also like old English, Tamil and Hindi songs. I have established that politicians can be different. By nature, I am not tuned to politics. I still am not comfortable.
Are you as spiritual as your father? Do you perform puja before you start your day's campaign?
I am spiritual but I don't believe in rituals. I have been gong to Sabarimala for 36 years. I use the long, traditional route. I go to Sabarimala because all are equal in front of Lord Ayyappa. Whether you are a rickshaw driver or an industrialist, once you wear the mala, you are a swami. I go to temples like Madurai Meenakshi and Thanjavur Bruhadeswara to enjoy the atmosphere. I don't perform any puja because my mother and father do a lot of puja and that is enough for all of us. That doesn't mean that I am a rationalist or an atheist.
What is the funniest question you have been asked during this campaign?
People are still curious about my father. They ask, is he a villain at home? Is he very strict? The truth is, I can't remember him ever being harsh in real life.
Photograph: Sreeram Selvaraj
ALSO SEE
Jayant Advani: 'I avoid making personal attacks'
Smriti Malhotra Irani: 'I carry a book of Atalji's speeches'
Hema Malini: 'Campaigning is a tough job'
M Venkaiah Naidu: 'I hate confusion and waywardness'
Image: Rahil Shaikh