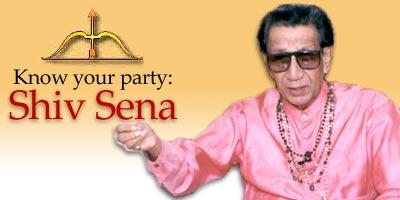 Formed
1966

Founder
Bal Thackeray
Working President
Son Uddhav Thackeray

Base
Maharashtra

Origins
Thackeray, who used to work alongside R K Laxman as cartoonists for The Free Press Journal, formed the Shiv Sena to promote the interests of 'sons of the soil,' Maharashtrian youth. In those years many jobs were going to migrants from south India and the anti-Communist Sena picked up this issue. Its slogan -- 'lungi hatao pungi bajao' -- caught the imagination of Maharashtrian youth who flocked to its flag in huge numbers.

The defeat of the Communists
Before the Sena rose to power in Mumbai, the Communist Party of India had a strong presence among textile workers in the city. Its popular leader Krishna Desai, a member of the Maharashtra assembly, was murdered and the Sena was blamed for it. The Communists alleged the Congress government supported the incident because it wanted the Communists to be driven out of Mumbai. After Desai's death, the Communists began losing their clout in the city. Now they hardly have any presence.

How is the party run?
Thackeray takes all major decisions. He even ran the Sena-Bharatiya Janata Party government of 1995 to 1999 with what he called a 'remote control.' Nowadays, he does not concern himself with day-to-day activities of the party, which is run by his youngest son Uddhav.

The Sena derives its clout from its local shakhas (party offices). Most of the local issues are decided at the shakhas, which are spread across Maharashtra.
Ideology
The Sena maintains its Hindutva ideology and is a right-wing political party. It dumped its anti-South Indian stand in 1970 and drifted to Hindutva after a long spell in the wilderness in the 1970s.
It has been accused of instigating many riots in the state, including the Mumbai riots of the late 1960s, the Bhiwandi riots in 1984 and the Mumbai riots of 1992-93.

The Sena says it is a nationalistic party and does not discriminate against any religion, caste and creed. 'We believe in nationalism and will go to any extent to eliminate the traitors and enemies of India,' the Sena chief has often said.

Challenges
There is a feud between Uddhav Thackeray and his cousin Raj.

Party workers are divided into two camps, but they maintain calm because of instructions from the Sena chief.
Image: Rahil Shaikh