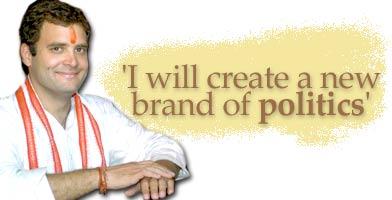 It is a scorching day in Amethi, but Congress candidate Rahul Gandhi is not feeling the heat. On a typical day in the campaign, he addresses close to 20 election meetings across Amethi. Often he gets down from his white Toyota Qualis, driven by brother-in-law Robert Vadra, to sip tea with the villagers, talk to them and sometimes embrace them. Then he stops under the shadow of the trees to eat his lunch.
Amethi's villagers are excited that the fifth generation of the Gandhi-Nehru family has entered politics. "He is so much like his father Rajiv," exclaims one
Deputy Managing Editor George Iype caught up with Rahul Gandhi in Amethi for an exclusive interview.
Also See: Dynasty on the Road
Aren't you tired of campaigning?
No, not at all. In fact, I am enjoying it. To be among the people is the reality of politics. And I simply love it.
What forced you to jump into politics suddenly?
It was not a sudden decision. I had decided to enter politics long back. When I saw my father's body, I had decided to work for the people he served. It took years for me to get out of the shock of my father's death. Now here I am in politics.
But politics is not an easy game compared to the relaxed life you led?
I never had any relaxed lifestyle. When I worked in London, I used to work long hours daily. If anyone did not deliver at Monitor [the company Rahul worked for in London], he would be told to go. So I worked hard, and the culture of working hard is in my blood. That is what I need in politics too, I believe.
But everyone expected Priyanka to contest, not you.
Politics is not just the art of winning a Lok Sabha seat. It is public service for the people of this country. Both Priyanka and I have the same values in politics. We have just one motive: to serve India in our own way.
What value will you uphold in politics?
Truth. I have seen that in politics, especially in our country, truth has been the first casualty. My father suffered long because he was forthright. He upheld the truth as sacred. During the Bofors controversy I asked him what was happening. He told me he was being persecuted for telling the truth. I believed in him. He always remains my hero in politics.
But Bofors still haunts your family.
We are not bothered about it, because there is no truth in the allegations hurled at us. It has been proved in court. People are targetting us even now because they don't have any issues to take us on.
Do you expect the Congress to win this Lok Sabha election?
Yes. The tide is in the Congress party's favour across the country. People have realised how the BJP is a dangerous party with a divisive agenda. The BJP changes its colours according to the occasion.
Don't you think the BJP targetting your mother's foreign origin will have an impact on the electorate?
The so-called foreign origin of my mother is a non-issue. I have always seen my mother as an Indian. They use all kinds of language against us. We keep quiet because we never descend to such low levels in politics.
What is your mission as a politician?
I will create a new brand of politics in India. Just wait and see.
Photograph: EMMANUEL DUNAND/AFP/Getty Images
Image: Rahil Shaikh